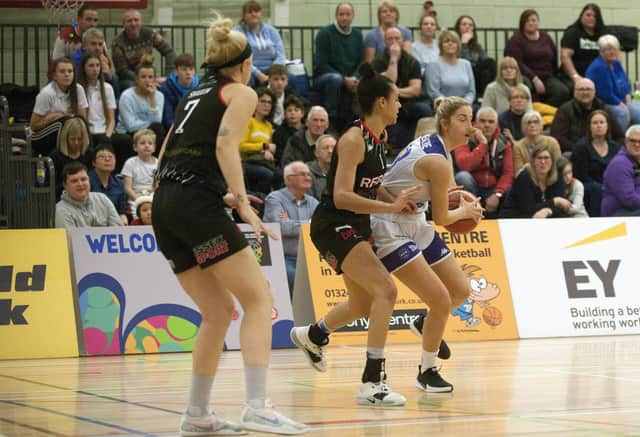 Jenna Beattie in action for Caledonia Pride in 2019 (Pic: Roberto Cavieres)
That has very much been the case for Falkirk basketballer Jenna Beattie who has had to put the sport she loves on hold for the good of her key worker role.
The 27-year old Caledonia Pride player, formerly of Falkirk Fury, has had to temporarily step away from the court in order to focus on her job as a dentist.
Speaking the The Falkirk Herald, she explained: "Our first game of the season was against Leicester Riders, I was made captain for that match as well so it was a very special moment.
"The Monday after the game we were told that one of the Leicester players had returned a positive Covid test, meaning we all had to isolate for ten days.
"For me that meant cancelling all my dental patients appointments.
"At that point I knew I had to make a difficult decision and I had to prioritise my job over Basketball.
"It was a horrible decision to have to make, I was really upset and I know in the grand scheme of things people have been through a lot worse over the past year but I have put a lot of hard work in to my basketball career so it was quite a setback."
Luckily for Beattie though, her club fully supported the decision, as did her family and teammates, and she has been told there will still be a place for her with Pride when she is able to return.
"Pride have been so understanding, they know it's a sensible decision.
"They've let me know I'm still very much part of the team and I'm still practicing individually and keeping in touch and that space is there for me when I'm able to get back training.
"My teammates have supported the decision too. We're a very young team and you might think some wouldn't understand but they do, they've been sending me messages, checking in, saying they miss me and they can't wait for me to come back.
"All the games are live streamed, it's hard watching it and not being a part and it's the thing that I love so I just want to be back on the court.
"I've accepted that the situation could be I don't play again till next season, I hope not but that might be the way things are."