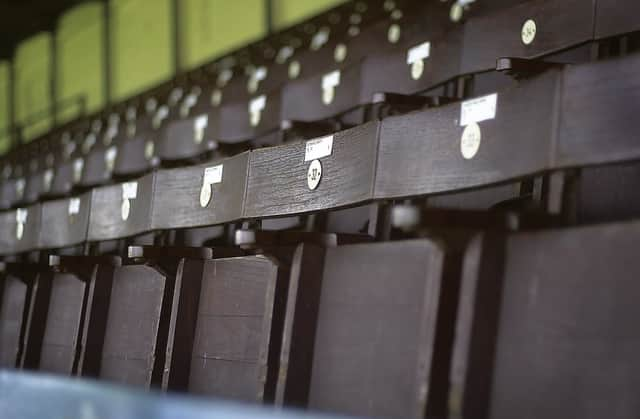 The mainstand watched some of the cream of Scottish, and when Gornik Zabzre came along European, football. Picture: FH archive
Falkirk fans were privileged to see some great teams over the years at the old ground, but it is doubtful if there were many as impressive as Polish champions Gornik Zabrze who played at Brockville twice in the early 1970s. They came with an outstanding pedigree and were at their peak then. They were Polish champions in five consecutive seasons and had lifted the Polish Cup for the same sequence.
In 1970 they had finished runners-up to Manchester City in the old European Cup-Winners Cup, losing the final in Vienna 2-1.They had beaten Rangers en route. They had come to Scotland for a mini tour during their winter break and played at Pittodrie, Brockville and Tynecastle.
Falkirk were on a good run of form- unbeaten in nine games and had only conceded twice. An estimated 8,000 were there on a chilly evening to see the Polish champions at Brockville.
Brockville saw planty of crowds for some of the biggest matches in Falkirk's history. Picture: FH archive
Lubanski 2, Szarzynski, Banas
Aberdeen had beaten Gornik 5-0 at Pittodrie in the previous midweek, but Dons boss Eddie Turnbull had been impressed by the Polish team and felt they tried to play the game at too leisurely a pace. They certainly rectified that against a full-strength Bairns side- with a vengeance. Two children in Polish national dress presented Falkirk referee Archie Webster with flowers prior to kick-off, and the scene was set for a friendly to remember.
Within 35 minutes the visitors were three goals up and coasting. They simply blew Falkirk apart and exposed fundamental flaws in Willie Cunningham's experimental line up.
He tried George Miller playing as sweeper behind a double centre-half pairing, but the Falkirk rear-guard were simply pulled apart by the pace and direct running of the Gornik attack. With barely three minutes played Olex crossed for Szarzynski to leave Rennie helpless. Falkirk fought back well and with a flashing header Alex Ferguson almost equalised.
Right winger Olek was the star man and his runs and clever ball play brought deserved applause from the Falkirk crowd. Rennie brought off a great save to deny him but Banas added a second after 26 minutes, beating Abel and Markie before letting fly with a 20-yard shot. The quality of football being played by Gornik on a mud-bath was simply stunning and when Lubanski made it 3-0 after 36 minutes, the prospect of a real hammering was on the cards.
Bobby Ford replaced Miller at the break and Falkirk looked better coming forward in the second half. To be fair, theyhad played a 0-0 draw against Hibs 48 hours earlier on the same park and looked a bit weary. To face opposition of this calibre was asking a lot and Gornik knew the game was won and they coasted a bit. Just to underline their class, they added a fourth after 75 minutes, when Lubanski took a pass from Szoltysik, beat three men, rounded Rennie and fired home. Falkirk were out on their feet as the pitch resembled a scene from The Somme and despite chances falling to Roxburgh, Ford and Hoggan, they couldn't find their way past an excellent keeper in Kostka.
Falkirk could have done with a bigger rest period after the Hibs game, but that is not to take anything away from an outstanding side. They were clinical, ruthless and entertaining, as you would have expected with a team full of Polish international stars. Their CVs were impressive, and the Falkirk players knew they had been up against some of the finest players of their generation. Four of the team were to amass a total of 233 Polish international caps by the end of their careers.
FALKIRK: Rennie, Abel, McLaughlin, Markie, Miller (s. Ford) Gibson, Hoggan, Roxburgh, Ferguson, Young (s.Scott),Shirra.
GORNIK ZABRZE: Kostka, Wrazy, Oslizio, Florenski, Gorgon, Szoltysik. Skowrouek, Olek, Banas, Lubanski, Szarzynski (s. Willim)
Referee: A.Webster (Falkirk)
Almost a year later to the day, the Polish side were back in Scotland and again Falkirk faced many of the same players in an equally strong Gornik party. Falkirk had lost 2-0 at Parkhead on the Saturday and were sitting uncomfortably close to the bottom of the table- with only nine points from their first 12 games. It was a case of Groundhog Day with a vengeance. Same venue, Same time of year. Same opposition. Same score. Only this time, Gornik were even more ruthless if that was possible. They were due to face Hearts at Tynecastle 48 hours later and they played well within themselves.
Banas, Lubanski, Szarynski, Wilczek
Falkirk started much better than in the first game, but many had a sneaking suspicion that the visitors were playing a waiting game. The Polish side wasted two good chances when Szoltysik shot wildly over the bar. After 25 minutes, Gornik took the lead through Banas from a well-rehearsed free kick manoeuvre. Szoltysik flicked the ball to Banas who caught Devlin off his line. Almost on the stroke of half time, Lubanski added a second, after holding off Shirra, turning and leaving Devlin helpless. Stuart Rennie took over in goal after the break, but the game followed a familiar pattern.
Gornik added further goals through Szarynski and Wilczek in the final eight minutes to give a more accurate reflection of the play. The final goal was as good a strike as you could hope to see. Running on to a knee-high cross from Szarynski, he hit a first-time volley past Rennie from 15 yards out with the ball never touching the ground. Even die-hard Falkirk fans applauded.
FALKIRK: Devlin (Rennie), Abel, Jones, Markie, Miller, Shirra, Hoggan, Young, Somner (Scott) Ferguson, Roxburgh
GORNIK ZABRZE: Kostka, Wrazy, Oslizlo, Gorgon, Latocha, Szoltysik, Wilczek, Skowronek (Deja), Banas, Lubanski, Szarynski.
Referee: I.Foote (Glasgow)
In the qualification for the 1974 World Cup Finals in West Germany, Poland were in the same group as England and many older fans will recall the meeting of the two sides at Wembley in October 1973. England had to beat the Polish side to qualify. The match was televised live and the pundits included the irrepressible Brain Clough.
He dismissed the Polish keeper Jan Tomaszewski as "a clown" , but the keeper played the game of his life. The other star of the evening was Jerzy Gorgon – the same player who had shone at Brockville and was still only 24 by the time the World Cup Finals came around. At the Finals, Poland topped their group which included Italy and Argentina and went on to win the third-place play-off against Brazil.