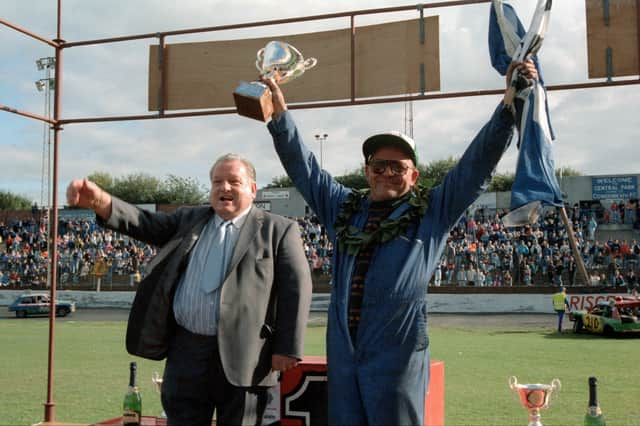 Ernie Burgoyne celebrates
There was a big turnout of drivers for the World Final and the qualifying meeting on the Saturday night was spectacular to say the least. There was no shortage of action which set up the fans for the World Final on Sunday. The atmosphere was something else although as it turned out more of the English drivers got through to the final than the home drivers.
Ernie, from Airth, recalls: "I turned up reasonably early on the Sunday and even then there were plenty of cars and fans in the stadium. The cars were scrutineered and we had our briefing from the promotion."
"I had a Mazda as opposed to an Escort which I helped to build with Tully and it was powered by a Benny prepared engine I built myself! I was one of the seeded drivers so I didn't have to race the night before. In a way I am glad as there were something like seven rollovers and there was a lot of action. It was good to watch and the spectators loved it!"
There were a couple of races before in atmospheric conditions the World Finalists appeared on their parade lap with the drivers being cheered as they made their way around the track, surprisingly the Scottish drivers more so that then the visitors.
Gordon Barclay would start from pole with Kenny Stewart alongside whilst on row two was Davie Duncan but when the next out was Conrad Self the crowd made their disapproval known. "I drew out number five which put me on the inside of row three with Ian Jarman alongside me. I was reasonably happy at that. It's better to be a chaser than being chased! Selfie was the danger man and I knew that if I was to win then I needed him out of the way."
The drivers got strapped into their cars and awaited their signal to go around to take up their grid positions and even at this stage the fans were in good voice as they awaited the start to the race.
After a couple of slow warm up laps the green flag dropped and in a blaze of noise Barclay went straight into the lead followed by Stewart and Duncan. Mayhem was let loose on the turnstile bend resulting in Keith Jackson going against the wall with Self going into the lead. The yellow flags appeared to allow Keith to be assisted out of his car.
The grid was reformed when the track was cleared with Barclay again making a good start but this time Self had moved into second place although just ahead of Burgoyne. The gap between second and third closed with Ernie managing to make contact with Self much to the delight of the Scottish fans although he lost a couple of places in doing so.
"I remember getting close enough to Selfie so that I could spin him enough to let me get ahead. I dropped a couple of places and dropped down to fourth and by the time that Selfie straightened up I was well clear."
Barclay was leading but the 47 car was beginning to close up on the leading group of cars but before he did so there was chaos on the back straight. Self and John Halifax had tangled and Eddy Aldous had crashed and was stuck against the wall.
"My car was going well and I was confident that I could end up with a good result."
On the restart Burgoyne made a better start than Barclay and soon emerged as the leader but now had Danny Semaru in second after the latter had got ahead of Barclay and Bob Jones.
As the race progressed Burgoyne was in amongst the back markers and one of these was Kevin Shinn but he spun and just as he was starting to catch the back markers. The next two on Ernie's list were Willie Barnes and Keith White, both danger men and who wouldn't let him through without retaliation. "I saw Barnes and White ahead and knew that they would not be easy to pass. I managed to spin both and by then was well clear of Semaru. I don't think that I have ever talked so much to myself in all my life as I tried to keep calm and drive as controlled a race as I could."
Semaru was sent crashing out delaying Bob Jones but now it was Steve O'Dell who was in second. Jones was sent crashing up the wall by Jock Maxwell, who was disqualified for his pains.
Burgoyne now had a fairly clear run to the chequer and to a "Cowdenbeath roar of approval" crossed the line to become 1991 Saloon World Champion followed home by O'Dell and Pete Simpson.
"When the chequer appeared I was over the moon for myself and the lads who had helped me get the car built and ready. Andy Ainslie from AA Components was meeting sponsor and had sponsored me from day one. It was very emotional standing on the top flight of the podium knowing I was the World Champion."