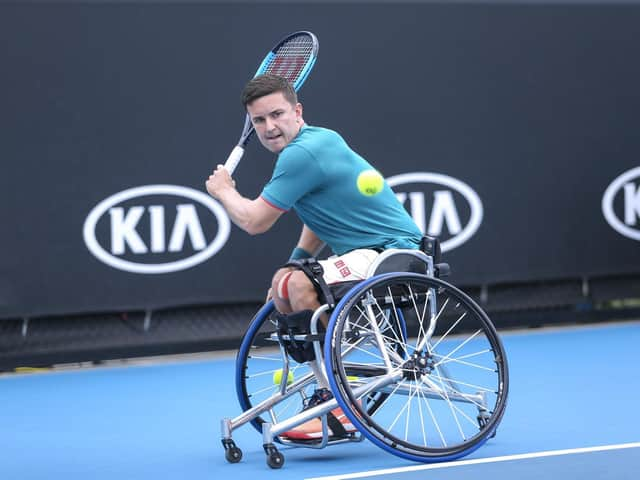 Gordon Reid in action at the Australian Open final in January (pic: Wayne Taylor/Getty Images)
Not only has Wimbledon been cancelled, denying him the chance of a second singles crown at SW19, but he also won't get the chance to defend the Paralympic Games gold medal he won four years ago. At least not this year at any rate.
But the 28-year-old Scot remains philosophical about the situation he and the rest of the sporting world find themselves in.
As someone very much aware of how health issues can override sporting considerations, Reid is conscious of sport's place in the grand scheme of things.
All he can do is focus on keeping himself in the best possible condition for the time when normal service on the tennis court can resume.
He said: "Obviously it's not an ideal situation for a lot of people, but it's one of those things that's got to be done to help people be as safe and healthy as possible, so it's quite a small sacrifice for us to make as athletes.
"With the cancellations of Wimbledon and the Paralympics it is quite difficult, but I think the way to look at it is it doesn't really mean a lot to wait a few months or a year to compete if it means saving people's lives and helping to contribute to keeping people healthy and getting past this as quick as we can.
"It's important to keep that perspective and realise that sport is a big part of our lives but it's really not that important in comparison to keeping people healthy.
"We want to be in the best condition we can and the best way to do that is to follow the guidelines and advice and stay in the house as much as possible."
Current world number five Reid has at least enjoyed some sporting action, and success, in 2020. In January he reached his fifth Grand Slam singles final at the Australian Open - having won there and at Wimbledon in 2016 and lost in the French Open finals of 2016 and 2019 - before losing out to Japan's Shingo Kunieda.
And in the doubles Gordon and playing partner Alfie Hewett captured a remarkable 11th Grand Slam with victory over French rivals Stephane Houdet and Nicolas Peifer.
The pair have now won two Australian Open, two French Open, three Wimbledon and four US Open crowns, not to mention having also reached nine other Grand Slam finals.
Reid admitted: "For other sports it might be even tougher for them because they might only be competing once or twice a year, they might not have that chance at all. But at least we've had a bit of competition already.
"It was going well. I started the year well in Australia - myself and Alfie won three out of three titles there, including the Aussie Open, and I made the final of the singles as well.
"We came back to Europe where we won the doubles again and I made the singles final so I feel like I was in good form.
"You always want to start the year well because it gives you a good confidence boost going into the rest of the year.
"But some things are just outwith your control and hopefully we can get back competing again this year. But if not then we just have to accept it and focus on coming back stronger again next year."
Reid was actually on the verge of crossing the Atlantic when the tennis circuit came to its Covid-19-induced halt - prompting a u-turn back to Glasgow and the replacement of his tournament schedule with a home-based training routine.
He said: "I was in London for a couple of days and was due to fly to the States on the Saturday when our tour pretty much got suspended on the Friday.
"So I just changed my flight, came back up here and was back at home when the lockdown got announced.
"I've been really well supported by the LTA; they have provided me with equipment to try and continue my training programme as best as possible from home.
"But obviously you can't simulate being on a tennis court and actually playing tennis with somebody; that's the one part of training that I'm missing completely.
"But from the physical aspect I've got rollers set up for my wheelchair which is like a treadmill for a chair, so I can do my pushing, cardio sessions on that. I've also got a lot of equipment for strength training and rehab and injury prevention.
"It's not ideal but I'm just doing the best I can to be prepared for when we start competing again."
And the lockdown does have one silver lining - it's allowing him much more home time than he would normally have.
"What my schedule normally looks like compared to what it's been for the past few weeks and next few months is like night and day," he said.
"But to be honest, for me personally it's been OK because I've had so much time away from travelling over the past 18 months to two years that it's actually been quite nice to have a bit of time at home.
"It's not a nice reason why I'm here, but it's meant I have a little bit more of a routine and to be able to cook my own meals and sleep in my own bed for more than a week or two at a time has been quite nice.
"But the toughest thing for me mentally has been not having that short-term goal of competition because we don't know when our first tournament back's going to be.
"It's just been finding a way to keep motivating myself, knowing that I might not be competing for a while."
Another thing football fan Reid misses is the chance to watch his beloved Rangers.
After winning Paralympic gold in Rio in 2016 he was presented to the Ibrox crowd before a match - and admits that's right up there with his tennis career highlights.
He said: "It was very special. I loved football when I was a wee boy and before I was in hospital and had my condition I played football a lot and my dream was to be a footballer and be a Rangers player, so to have that experience of walking out in front of the crowd at Ibrox and getting a reception was pretty incredible.
"That's one of the things I miss the most, watching them play football, but it's just one of those things and hopefully it's back sooner rather than later."
In the meantime Gordon says the most important thing we can all do is stick to the lockdown guidelines.
"Especially at the moment when the weather's really nice and it's tempting to go outside and soak up the sun when we don't usually get the chance.
"But I think it's a small sacrifice in the relatively short-term and it's really important to do. If everyone can stick to guidelines as much as possible, the more we do that the sooner we'll come back out the other side."
Gordon Reid is on the LTA's Wheelchair Performance programme which provides elite support to players.