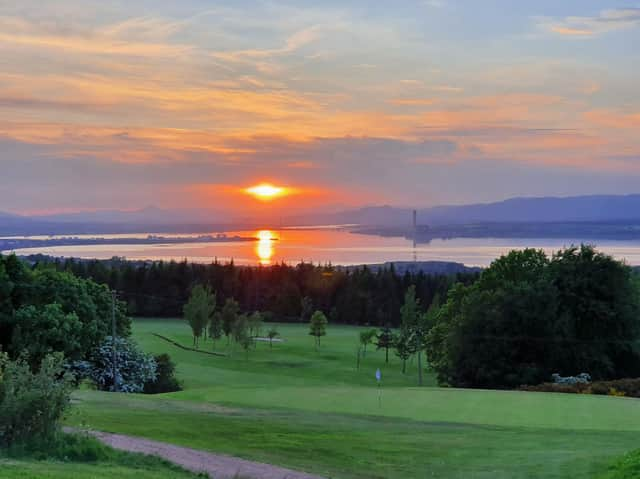 This stunning picture looking west from the eighth green at West Lothian Golf Club was taken by new member Gary Nicol.
The Bo'ness course has been awash with golfing folk back enjoying playing after the frustration of 66 days of closure due to the worldwide pandemic.
"Under normal circumstances it would be one, two or three new people joining," West Lothian GC captain Pete Cowen (58), of Bo'ness, told the Journal and Gazette.
"Some of the 53 are returning members and some are taking up golf for the first time, within a complete cross section of age groups.
"In the short term we are getting the economic benefit of golf being one of the sports to return since lockdown was eased and we hope it continues.
"It's been challenging and we're glad to be golfing again.
"I have played three rounds in a row and the course is in superb condition.
"We've had lots of positive feedback from members."
Among the new members are five footballers who represent Bo'ness United in the Stirling & District AFA, Lewis Burns, Jason Sturgeon, Blair Woodburn, Christopher Hutchins and Gordon Mcintyre.
"I have great sympathy for these guys as they don't know when they're going to be playing football again," Pete said.
"What I have found in my experience is that footballers can take up golf and quite quickly be very good at it."
With several social distancing measures in place, West Lothian GC is currently allowing groups of up to two people play in bounce games (or family threeballs from the same household), with individuals allowed a maximum of three bookings within a week.
After initially only allowing members to play post lockdown easing, the club is now permitting member guests and visitors in the afternoons, only by phoning the professional shop.
Medals are expected to be restarted at the club soon, with a Covid-sensitive approach proposed which would see one person within a twoball record both scores (wearing gloves) in a touch screen computer.
Other measures include no touching flagsticks, no bunker rakes, no handshakes and a closed clubhouse.
Players arriving at the pro shop to check in should arrive a maximum of 15 minutes before their tee time.
They will be greeted by professional Caimin Condren, who is currently sitting behind a plastic shield for protection.
In other news, head greenkeeper Iain Marshall celebrated 25 years' service whilst doing essential maintenance in lockdown.
Iain started at the club on what he thought was temporary role when he was 15 in between doing his exams in 1995 at Bo'ness Academy and is still working at West Lothian GC a quarter of a century later!