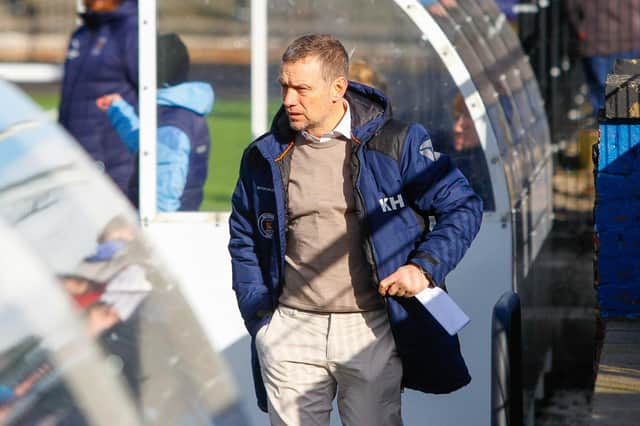 Max Christie has signed Spanish keeper
The keeper, 22, born in Zaragoza but now living in Linlithgow, joins for a new era between the sticks at United as Murphy, 29, had served the club for over five years after joining on a free transfer from Queen's Park in January 2017.
Christie said: "Andy's away so Musa will come in and fight for the jersey.
"Andy leaving is a blow because he's been a good servant to us, he's a good keeper and we're disappointed to lose him.
"I think the commitment side of things was a bit much for him. He just wanted to play locally.
"I think he's away to sign for Armadale, where he lives."
But midfield stalwart Nick Locke has signed a one-year contract extension with the BUs, with Christie this week signing utility man John Ward from Berwick Rangers and ex-Dundee United and Haddington Athletic attacking midfielder Alassan Jones for next season.
"Nick's a big player and we're just delighted to have him signed up again," Christie said.
"John can play fullback or in midfield. He's an 18-year-old boy who's been a kid at St Johnstone.
"He was on an amateur form at Berwick and he's coming here to see if he can secure a place and see how it goes. We have high hopes for him.
"Alassan was a full-time player at Dundee United for two or three years. And he needs to find a home because he's a talented boy, great athlete and a good footballer so we've got high hopes for him.
"He's a left footer who can play anywhere in the midfield and up front."
Meanwhile, a crowd of around 400 attended last Thursday's testimonial match for Stuart Hunter, a United stalwart for over 10 years who is now assistant manager.
The 39-year-old centre back's team took on a 'Scotland Seniors' select side at Newtown Park.
Christie added: "It was a good turnout for Stuart. He's been a great player and a big man about the place for a number of years.
"During my time here he's been a great help to me and a big part of the team."