"We got away with one" says Falkirk midfielder Telfer
Falkirk midfielder Charlie Telfer said the Bairns "got away with one" after Saturday's 3-2 defeat at Clyde.
Monday, 2nd March 2020, 8:00 am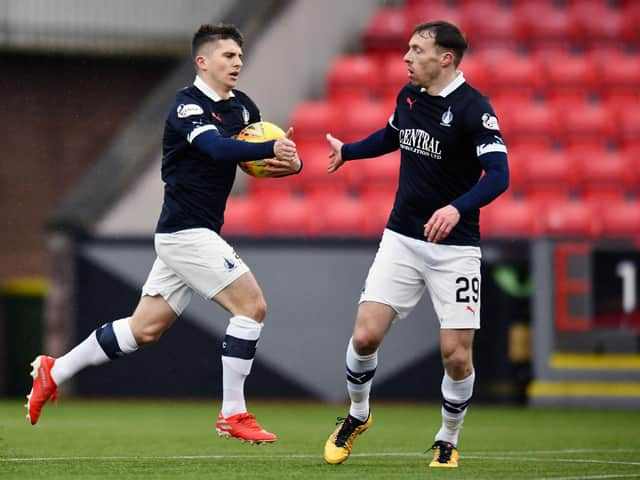 Charlie Telfer scored from the penalty spot to make it 2-1 just before half time.
The former Dundee United man scored from the penalty spot just before half time to make it 2-1 but the Bairns still went on to lose the match.
The biggest upside from Saturday though was both Raith Rovers and Airdrieonians also suffering defeats meaning things stayed the same at the top of the League 1 table ahead of Tuesday's crucial trip to Stark's Park.
"We're fortunate," said Telfer.
"We're lucky that we have gotten away with one.
"We started the second half brilliantly and felt we could equalise then go on and get a winner but we conceded three goals today and it's our own fault we've been beat.
"Clyde did well to capitalise but we can only blame ourselves.
"It might be harder for Raith to pick themselves up because of the way the lost but both teams are going to be up for it on Tuesday.
"The one who wins will be top and if we get there then we know we have what it takes to stay there but we need to cut out the mistakes.
"We need to be ruthless in both boxes and against Clyde we weren't.
"We are fortunate we've not lost any ground at the top and Tuesday is now even more important."
The last meeting between Raith and Falkirk ended 1-1 at the Falkirk Stadium where Telfer was shown a red card just 14 minutes in to the match.
"I'm really looking forward to the game if I'm picked to start and hopefully I'll last longer than 14 minutes," he joked.
"The boys were fantastic that day and did really well to get the result they did after playing most of the game with ten men and eventually going down to nine men.
"I fell like I let them down to an extent but they dug themselves out."