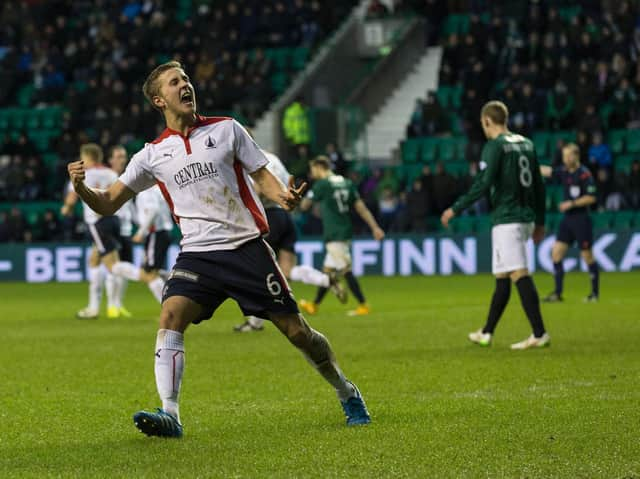 Peter Grant celebrates his equaliser to make the score 3-3 at Easter Road
Overpriced at £22 a skull? You bet, but the Bairns and Hibees who paid the exorbitant fees got their money's worth this week at least with an absolute thriller.
If this had been a pay-whatyou-like match Hibs would have coined it in.
Fighting spirit, end-to-end football, phantom goals and Willie Collum got it right. It had the lot and goals aplenty.
For a while it seemed Falkirk's story would be based around a controversial and confusing decision by Willie Collum to rule out John Baird's second goal of his Falkirk debut, then the Bairns righted the perceived wrong with a fight-back of their own and the only frustration isn't based around Baird's phantom chested effort, it's that Mark Oxley in the Hibs goal was equal to two terrific strikes that could have won it in the last ten minutes.
As it stood Peter Houston defended the whistler's first half decision, which came as a result of the whistler not being able to establish who was off-side and his assistant Lorraine Clark unable to see who had the final touch.
In the end a collaboration of the two established Baird chested Rory Loy's flick-on to Blair Alston's free-kick for what seemed to be his second but he had begun in an offside position.
"I thought Peter Grant scored," admitted Houston.
"But I'm told it was Baird and the referee's assistant radio'd him to say number 35 (Baird) was offside so if it was him who got the final touch – and from my view I didn't think it was – then it's offside."
The perceived injustice was multiplied by the time it took Collum and Clark to decide the goal shouldn't stand with Hibs and Falkirk retreating from the goal and celebrations to prepare for the restart.
It caused Falkirk to shift focus, but added drama to an engrossing and cold afternoon.
It began in a flurry of snow that left visibility like someone had blown the dust off Hibs' Scottish Cup winners medals, but it was clear to see who had the upper-hand early on, and it was the home side.
It took just 12 minutes for their pressure to tell with Jason Cummings cutting in off the right and firing a shot that Jamie MacDonald parried, but couldn't keep out.
Once Falkirk composed themselves they began to put a foot on the ball and play patiently.
It was an improvement but the equaliser still came against the run of play.
Baird seemed to leap too early to meet a cross from deep by Kieran Duffie.
However the tiny frontman extended at the peak of his jump and nodded a lovely header over Oxley and into the corner of the goal.
It lifted Falkirk and they probably merited the second goal that didn't come.
Their positivity lasted until Collum and Clark's comedy act and within moments of it being 2-1 to the visitors it was 2-1 for Hibs as a combination of Luke Leahy and Cummings knocked a corner past MacDonald.
Falkirk were rocked back on their heels and Cummings couldn't be grudged the third when Jamie MacDonald made a mess of a clearance and was beaten to the ball by Boyle.
He squared for the forward to knock in the third.
According to Blair Alston the dressing room was positive since when the Bairns had been pressing, they had petrified the Hibs defence.
So they went for it and contributed to a great second half.
Hibs' Martin Boyle squandered an open goal after MacDonald was again caught out his box, but from then on it was all Falkirk on the front foot and ex-Bairn Liam Craig gave them a foot up by knocking in a Craig Sibbald corner to his own net.
With the prospect of restoring justice over the phantom goal the Bairns pushed harder and still Hibs wobbled and Peter Grant forced a Mark Kerr free-kick past Oxley.
The Bairns could have even won it with a clever lifted shot by Sibbald and a rocket from Alston both beaten out by the Hibs goalie late on.