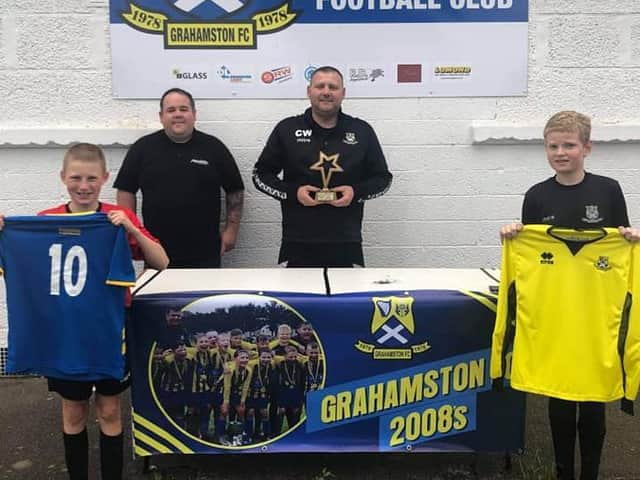 2008 head coach Craig Wilson picked up his award while the team received new kits
2008 Head Coach Craig Wilson won the Scotland South East Region Unsung Hero Award, being praised for his dedication to the club.
Wilson was nominated by 2008s goalkeeper Callum Edwards recommending he receive the award for his abilities as a coach motivating and leading his team.
Part of the prize also saw the team presented with new kits from marketing and advertising firm Recognition Express who sponsored the awards.
Grahamston FC club secretary Stuart Ward commented: "Sometimes grassroots football involvement is a thankless task, not so on this occasion.
"I'm sure like the rest, he doesn't do any of it for to get praise but on behalf of the full club and personally myself as secretary of the club, it is a privilege to have Craig within our set up.
"Thank you to Recognition Express for the strips which were also part of the prize."
The award was presented to Wilson after a training session on July 30 by Ward along with Craig's son Keir and Callum Edwards.
Speaking to the Falkirk Herald, Wilson added:"I was a bit overwhelmed it was really nice to hear that one of the kids off their own back nominated me for the award.
"You're not looking for any thanks working in grassroots football, it's given back to you from the kids getting to play every Saturday.
"It's always nice to get a bit of recognition and that the kids appreciate your work, Callum is a really thoughtful guy and to nominate me off his own back was nice, knowing the kids appreciate the work you do for them as well."
Any players born in 2005,2006,2008,2011 or 2012 who would be interested in joining Grahamston should email [email protected]