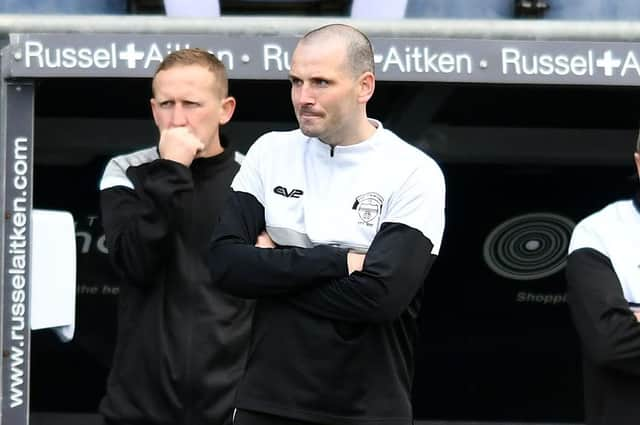 Derek Ure
The Shire face Bonnyrigg Rose, Cumbernauld Colts, Berwick Rangers, BSC Glasgow and Stirling University in the Lowland League and The Spartans in the South Challenge Cup this month with Ure saying "There are no easy games on paper" to come.
Speaking to The Falkirk Herald, the Shire boss said: " Where I'm at just now is that we need to deal with every game as it comes. I've looked ahead for November and we have six games and there isn't an easy one on paper.
"It just shows the strength in the league, there will be teams who drop points this season so we need to make sure that we take as many points as we can from the big games and see where that takes us at the end of the season.
"It's all about taking three points each game and moving onto the next one."
That tough run of fixtures kicks off this Saturday as they host last season's Lowland League runners-up Bonnyrigg Rose.
"There's no doubt they will prove to be a very difficult opponent," said Ure.
"We played them last season at a similar stage at their ground and we came up short.
"It's our home game this time and we want to lay a marker down, go out and apply ourselves and get the three points."
Despite a tricky run of games to come Shire go in to the month on the back of a fantastic start to the season.
They have yet to concede a goal in six matches and their only dropped points came in last Wednesday's 0-0 draw against East Kilbride.
They soon put any disappointment they may have felt from that match to bed though with a 7-0 hammering of Vale of Leithen last Saturday.
Andy Rodgers netted a hat-trick while Gregg Wylde, Lee Hadden, Craig Henderson and Jamie Dishington all got in on the scoring as Shire returned from Innerleithen with a hard earned three points in tough conditions.
"We asked the players to deal with the conditions and take care of the game in a professional manner and they did that in abundance.
"I can't be any more complementary, they delivered exactly what we asked.
"The most pleasing bit for me was the boys taking a bit of pride in keeping the clean sheet. When Ross saved the penalty they celebrated it like a goal because they are proud of fact they've not conceded yet this season."