The Benchman: A porridge of decision-making and after-you-ism is rife
Professional football as we know it has its very existence at threat, says The Benchman this week.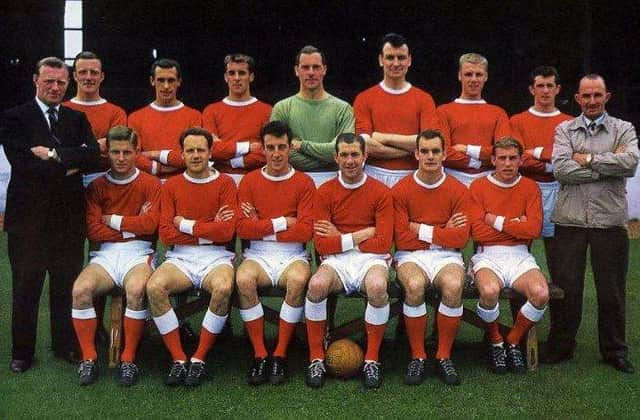 MYSTERY PICTURE: Can you spot the ex-Bairn?
BEST WISHES: Those who thought the outbreak of the virus was a distant event were stunned to hear that a well-known Bairns fan had contracted the virus and been laid low in hospital in Sheffield after a real scare. At the time of writing, he was making good progress and keeping us all informed by social media. He urged everyone not to ignore medical advice and to take this very, very seriously indeed.
OPTIONS: Would the leagues be frozen as they stood at March 13th, 2020, and decisions made as to championships, promotions and relegations? Neil Lennon's comments were designed to light the blue touch paper and retire. Which matters were inevitable? Celtic winning Nine in a Row. Dundee United's championship. Probably Stranraer's relegation and Brechin's play-off to face the winners of the Highland or Lowland Leagues. All the other issues were still open to competition. Those down Gorgie way would not settle for relegation now. Falkirk fans could hardly believe John McGlynn's outlandish claim to the Division One title. The whole essence of league competition is based on late surges, last-day deciders and unexpected Lazarus-like revivals.
THE SEASON: Why not scrap next season's League Cup and use the time to finish off the current fixtures? There are precedents in sport for running competitions out of their normal time frames. Golf's Ryder Cup and international rugby are but two examples of competitions being extended to counter postponements for non-sporting reasons.
STAFFING MATTERS: Backroom staff may have to be laid off or placed on reduced wages. What will non-playing staff actually do, apart from catch up on administration, tidy cupboards and plan for a new season?
What will happen to players who are on standard SPFL contracts which have no clauses to cover such eventualities? What will players do to keep at a level of match fitness?
This is a major threat to the entire existence of professional football as we know it.
500 PEOPLE: The proposed limitation of crowd gatherings will drive a coach and horses through plans for stadium concerts which many clubs, including Falkirk, rely on to boost income in the close season. If, as predicted, we are about 10 weeks away from hitting a peak of infection, it makes it almost impossible to see fixtures completed, grounds prepared for the next season and have concerts on the parks.
WHO DECIDES?: The past week saw a real porridge of decision-making. After you-ism was rife as Governments, Medical Advisers and Sports Administrators waited to see who would make THE decision. The nadir was reached when the Welsh Rugby Union called the game against Scotland off with thousands already in Cardiff.