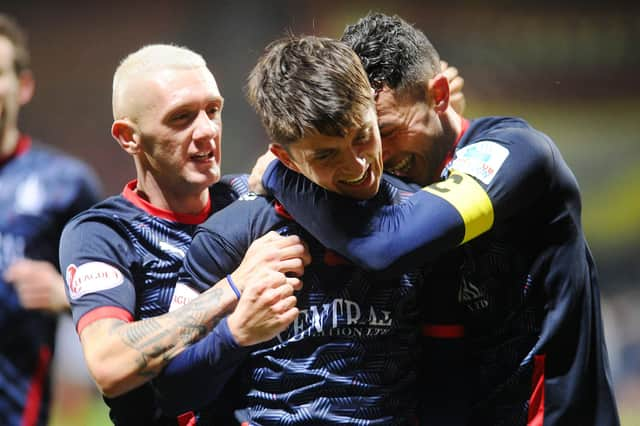 Charlie Telfer was delighted just to finally get some minutes after a frustrating few months with injuries and surgery
The Bairns had a 1-0 lead going in to the break but the hosts turned it around to make it 2-1 and looked on course for the victory.
Co-manager David McCracken went to his bench and called upon Telfer to make his first appearance of the season after a frustrating few months of injury and surgeries.
The former Rangers and Dundee United man made the most of his minutes and was able to rescue a point for the Bairns with his 88th minute goal.
Speaking after the match Telfer said: "On a personal level it was great getting the call to get on, I was delighted after being out so long.
"It's a nice milestone to be back and have my first appearance of the season and to top it off with a goal.
"It's frustrating not getting the three points but on a personal level it's a great day for me.
"With what's happened in the last year, being away from football so long, it's that hunger to get any minutes you can and I was just delighted to get on.
"The gaffer asked for a spark and I think the subs provided that."
At the end of the day, despite frustrations, taking a point away to the team considered their biggest rivals for the League 1 title could prove a good result in the long run and currently maintains Falkirk's four point lead over the Jags at this early stage.
However, Cove Rangers kept up their 100 percent start to the season with another win and now have a four point gap of their own over Falkirk with 12 points gained from a possible 12.
"I think we came into the game knowing they hadn't stated as well as they would have liked," said Telfer.
"Us, Partick and Cove are probably the three teams looking to try and get up and I think Partick needed to lift their game from previous weeks and we were going to have to match that and maybe even give a bit more.
"At times it was quite cagey and was a battle but we both tried to play and I think a draw is probably a fair reflection of the match.
"This could be a big moment, it's such a short season and every point could be important.
"Although we're frustrated at not getting all three hopefully we will look back at the end of the season and see it as a big point."