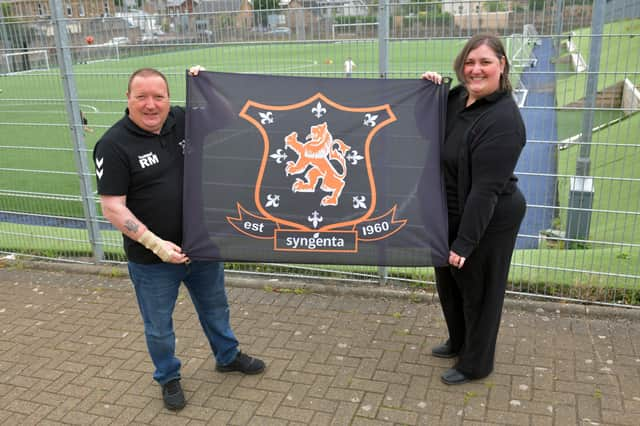 Rab Mullin and Danielle Robertson of Syngenta CP FC who had organised International cerebral palsy football festival this weekend but cancelled due to covid19. Picture: Michael Gillen.
Rab Mullin and Danielle Robertson lead Syngenta Juveniles CP and had organised the matches at Woodlands Games Hall this weekend – until the pandemic forced the plug to be pulled on plans.
But the couple have vowed to be back bigger and better, with more time to plan next year's extravaganza.
Rab told The Falkirk Herald: "It was heart-breaking to have to call off this year's event – the players had all been looking forward to it.
The event was scheduled for Woodlands Games Hall and pitches this weekend. Picture: Michael Gillen
"We'd been planning for over a year since we took 22 of our team over to Dublin for a tournament. It was a fantastic day for them all – and on the flight home Danielle, Michael McQueenie and I looked at one another and all had the same thought 'why couldn't we do the same in Scotland'?
"We began organising and were looking forward to hosting teams from down the road in Newcastle and from over the Atlantic in America – but this cancellation has only made us more determined for next year."
Syngenta players took part in a global online coaching session last month and organiser Ashley Hammond was flying a squad from all across the States to Scotland, but Syngenta have now broadened their horizons.
Rab added: "We've now got some additional contacts in Canada and further afield too so we are hoping with another year to prpeare we could add to the teams participating.
"We might need to move venues or add more but that can only be a good thing.
"While postponing is disappointing it's also another year for us to plan and add more sponsors and ensure it will be even bigger and better. It'll be worth the wait."
Syngenta run the most prominent cerebral palsy team in Scotland with players spread across the country from Paisley to Aberdeen, with local players in Grangemouth and Stirlingshire too.
This year's event was planned for June 20-21 but next year's proposed dates are the same weekend in summer - June 19-20, 2021.