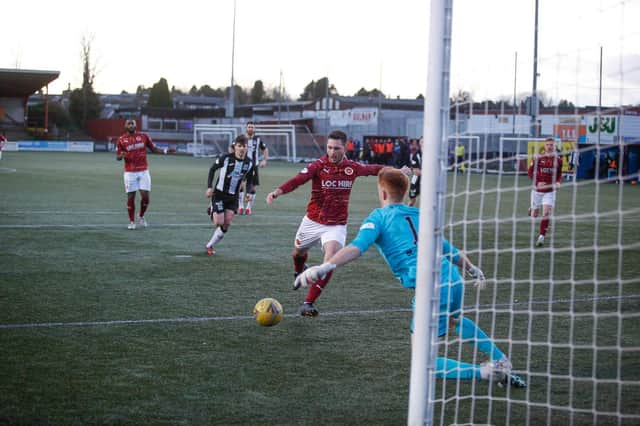 Thomas Orr scored both of the Warriors goals, but missed a spot kick in the second half (Picture by Scott Louden)
The coach tested positive for Covid-19 on the day of the match, forcing him to watch his side's 2-1 League 1 victory over Elgin City on WarriorsTV.
"It was honestly a bit of a mental experience," said Swift.
"In the morning I did a lateral flow and it came back positive.
Michael Miller drives forward past the Elgin City midfield
"We'd already had a hectic couple of days with organising signings and players leaving, then this happened.
"I had to let my assistant Frazer Wright take charge on the day and I was on the phone like a maniac trying to give my input during the match."
Striker Thomas Orr grabbed two early goals to give his side the lead at Ochilview Park, somewhere they have struggled all season to pick up points.
Kane Hester scored with City's only shot on target up to that point ten minutes before the break to get them back in contention, though.
Jordan Tapping is sent off with 20 minutes to go
Stenhousemuir were more reserved than usual, with key players Ross Forbes and Darren Christie dropped to the bench, but Swift said that was the plan going into the match, explaining: "We didn't start them because we wanted a little bit more defensive nous and we wanted to be solid at the back.
"It was more of a counter-attacking display but it worked and the three points are good enough for me.
"We had to change something to alter our home form and the change helped."
Swift praised ten-goal striker Orr's performance in front of goal, saying: "We scored two good goals early, which was perfect for our game-plan.
"Tam has really come into his own recently and is scoring often.
"With Robert Thomson now back too, we have real options."
Midway through the second half, on 71 minutes, the Warriors were reduced to ten men after Jordan Tapping was sent off.
Ten minutes later, they won a penalty and Orr stepped up, hoping to secure a hat-trick, but he missed to make it a nervy ending for the hosts.
"It was stressful, that's for sure," said Swift. "I was trying to get messages to the back-room on the phone.
"I was screaming to get Ross Forbes on because I felt we needed a bit of control in the middle, but my stream was behind and on the other end of phone I heard we were about to take a penalty."
He added: "We've had our problems this season with holding on to leads, so to do it with ten men and see it out is a big boost for us."
Looking ahead to Saturday's trip to Annan Athletic, the Warriors boss warned that it's going to be a tough outing despite his side already having beaten them twice this season.
He said: "They are having a great season and some of the their players have been performing to a really high level. Owen Moxon for them has been one of the best players in the league this year.
"If we win, we can go six behind them in the table and really push for third spot.
"Our new signings did well and having them is a boost."