Subs are as important as the starting eleven
Echoing the view that Falkirk's substitutes made a huge difference against Montrose yesterday, co-manager Lee Miller said everyone in the squad would be needed in this season's campaign.
Sunday, 18th October 2020, 2:21 pm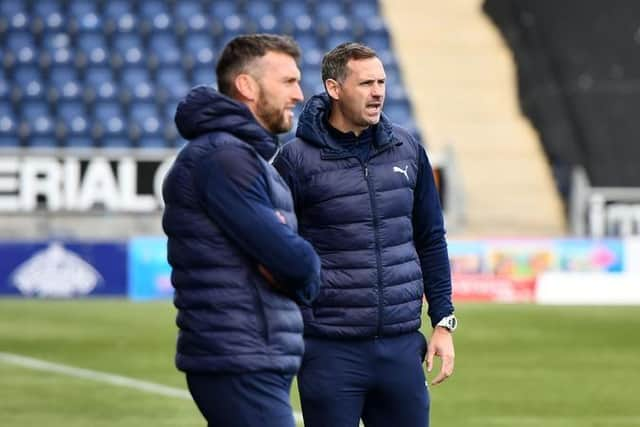 Falkirk managers Lee Miller, left, and David McCracken.
The co-manager named himself as a substitute in the starting line-up at Links Park, following injury to Aidan Keena and a shortage of other options.
He said his main objective when he came on was to menace defenders – and he was as good as his word.
Miller's surge into the penalty area forced Andrew Steeves into a challenge which earned the Montrose man a red card and Falkirk and penalty, with Callumn Morrison blasting home the sport kick for the second goal in Falkirk's 3-1 victory.
Robbie Leitch, another substitute, made absolutely certain with a breakaway goal in the 90th minute.
Miller, who came on at the same time as Morgaro Gomis and Connor Sammon, with around 12 minutes to go, said five substitutions made a difference because of the reaction they created.
"You need everybody focused on making that impact – it can't just be the starting eleven, so I thought that worked really well for us."
He had an idea that he might take part in the game when he named himself in the team.
"I had it in my head if things aren't going right, then I am ready. I have not trained much but I have kept myself ticking over, just to have that impact. We pushed it a wee bit and I think Sammo and Mo did same thing. We are going to need everybody and I was delighted to make that contribution."
Miller said he intended to hassle defenders and be a "pest and a "nuisance" when he came on.
"No defender should ever get a clear header at the ball," he declared. "You go up and challenge and win free kicks, and just be 'nasty'. The subs made a massive impact and we are going to need that throughout the season."
Falkirk would take a welcome opening-day win and the positive aspects of the display into this Saturday's home match against Forfar Athletic.
"We'll dust ourselves down – it's back at Falkirk Stadium but it will be another tough fixture," said Miller. "Nobody is going to roll over and give us the points this season. We need to work harder than every team we play against and, hopefully, our quality will shine through."
Reflecting on events at Montrose, he said: "It was a hard-fought win. This is a difficult place to come and we will see that throughout the season.
"Teams coming here will struggle to pick up points because Montrose are really well organised. They play some good, attacking football and they are well organised in defence, so it's a recipe for a tough game up here.
"But I thought the boys dug really deep. We had a few chances earlier in the game, never took them and got a wee bit frustrated. Montrose came into the game and had their spell, and created a few opportunities."
Falkirk scored at a good time, added Miller, just before half time – only for Montrose to score at the other end of the interval.
"I thought we created enough," said the joint boss. "We did the ugly bit today – we defended well, blocked shots and blocked crosses. It was a real hard-fought one."
Assistant boss David McCracken felt the side's experience and ability to dictate the game after they had gone ahead had served them well on the day they returned to the fully competitive 'bread and butter' of the league.
"We've been through the Betfred Cup games and the pre-season games, and we had some good spells and some indifferent spells," he said. "But on Saturday we showed the good side to us. We battled through the game and we knew it would be a tough game at Montrose.
"They made it hard for us to play the way we like to play so we had to adapt – and we spoke about this last year. Sometimes, we find it hard to adapt in games and find that different way of playing.
"As the game went on, Montrose got back into it but I think we showed how the squad is today, as well as when the subs came on. Praise goes to Lee for getting the penalty and getting himself in that area but, after that, we showed a bit of experience as well, trying to control the game and kill it of. But fair play to Montrose, because they never gave up."
Many are already connecting Falkirk's name with the League One title after last season and McCracken said: "We are under no illusions about what we are trying to achieve here.
"We don't look too far ahead but we understand what it is we are trying to achieve, and that started with Saturday's win, so we take that and move on to the next game.
"We've put last season to bed – that's old news now. We can't affect it – here and now is what we can affect and we did that on Saturday. There is no point in hanging on to last season, or it will affect us negatively."
Saturday's success marked the first opening-day victory for Falkirk in 13 years and McCracken agreed the substitutes made a telling contribution.
"The first game is always hard and it was very different on Saturday, without the fans. As the game went on, Montrose came back into it but the subs made an impact and that is why they are there."
Falkirk remained confident even after Montrose equalised early in the second half. "Things will go against you during a game, like a goal or a refereeing decision, and it's about how you react to it," said McCracken.
"I think we reacted well to that. We dug in, handled Montrose's pressure and stuck it out. The subs came on and made that difference."