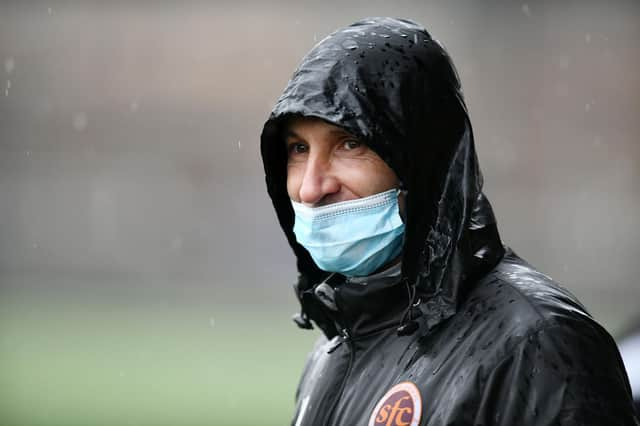 Stenhousemuir manager Davie Irons is aiming for a big improvement on last season in the league and is looking forward to the return of competitive football in the Betfred Cup this Saturday
The Warriors played their final friendly match on Saturday where Mark McGuigan netted a hat-trick in a 4-1 win over Berwick Rangers at Ochilview.
Now they are preparing for their first competitive match in over seven months when they face Edinburgh City on Saturday in the Betfred Cup group stages.
Speaking to The Falkirk Herald, Irons said he is excited to get back playing football again after being pleased with the players' fitness levels and mindset during pre-season.
"It's obviously been a different pre-season to what we've been used to with what we can and can't do due to Covid restrictions but generally the players have been good.
"We got through it relatively unscathed and for the majority of players it's been a good five to six weeks.
"Our performances have improved since the first game against East Fife to last weekend against Berwick, we've tried to get as many players as many minutes as we could and the players have adapted and got their heads down and taken on board everything we've tried to install and the style we want to play.
"From when the whistle goes at three o'clock at Edinburgh City it will be great to be back playing and competing."
The Warriors aren't expected to trouble the qualifying of their group which also features Premiership side Livingston but Irons is pleased his players will get to be challenged by quality opponents with each match a step up from the previous.
"City will be a good test, they will be there or thereabouts along with Queen's Park at the top of the league this season, it will be a good challenge.
"We're not expected to progress in this competition, we're the lowest seeded team in the group, but we will approach each game in a positive manner and I'm looking forward to it."
Irons says he is also interested to see how Saturday's opponents shape up ahead of the league season which kicks off for Stenny at Albion Rovers on Saturday, October 17.
"Edinburgh City, in my eyes, were the best footballing side in the division and it will be interesting to see what kind of style they have and what changes they've made to their squad but ultimately it's about being ready for the Albion Rovers game and being better than we were last season.
"We want to emphasise to the squad and fans that we will be aiming to compete at the right end of the table.
"It's about starting again now and I'm sure every manager of every team will look to be competitive.
"Each club has recruited and it's a shortened league so it will be interesting with nine games less - it will be more of a sprint as opposed to a marathon and making sure we get off to a good start is important."