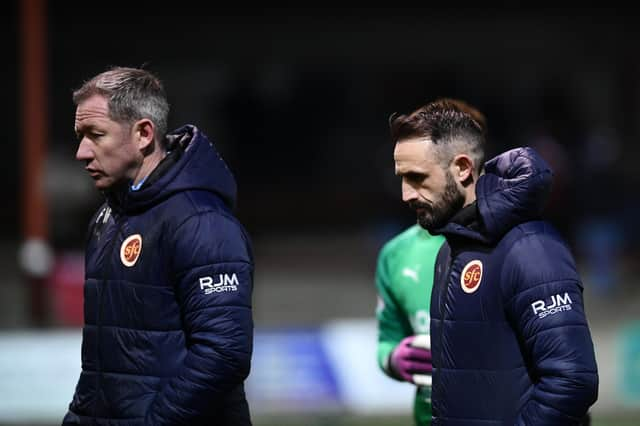 Warriors boss Stephen Swift
His side certainly merited something from the game, and he agreed saying: "I'm so gutted for them. You don't realise on a big pitch like that, in those conditions, the effort that goes into playing against a side like that.
"We didn't just set up to frustrate them either, at times we had chances and spells going forward.
"The players gave everything and I am so proud of them, but we can't feel sorry for ourselves at this time because we are in too good a place at the moment.
"The togetherness of this group is so apparent and I think the fans can really vibe with that."He added: " On nights like this you need to defend for your lives and your goalie needs to make saves, and they did that.
"Callum Yeats was sensational honestly, he put in a faultless display but its hard to pick one player.
"We were resolute and a draw was the fair outcome from that match, 100%.
"Michael Tidser has quality, and we gave him a wee bit of space just once, but it was costly.
"Bittersweet is the term to use, I can't believe we didn't take anything from the game.
"The reality is we lost to a very, very good team – one filled with players who could be play levels above League 2."
Looking ahead to Edinburgh City this weekend, he said: We need to use that on Saturday, because it is a massive game.
"If we beat them then we move into the play-off spots and that's our aim."