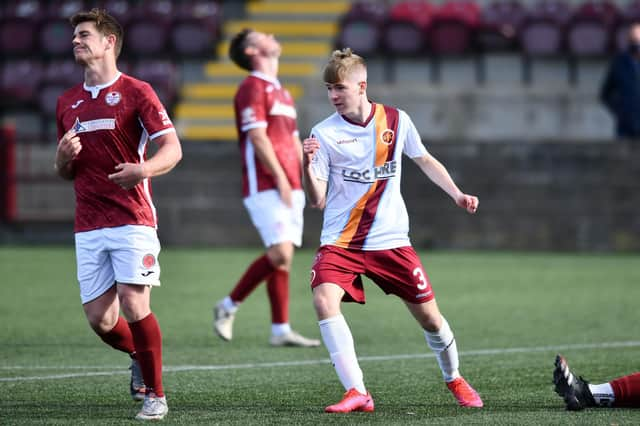 Cammy Graham had a great start to life in senior football before being rocked with a cancer diagnosis
However, for Stenhousemuir's Cammy Graham it was one of the toughest days of the 18-year old's life.
The young midfielder was given the news by doctors that he had stage two Melanoma after having a mole on the back of his calf checked out.
The diagnosis rocked Graham who initially only shared the news with his family and close friends.
However, after overcoming the initial shock, he went public with the news knowing people would start asking why he was not in the Stenny squad when games kicked off.
Since then he has climbed Ben Lomond to raise funds and awareness for Melanoma UK and is targeting a return to training soon after surgery to remove the moles.
"I had the scan on March 31 then the operation on April 1," explained Graham.
"We're speaking to GPs regularly and keeping an eye on the scars, I have a follow up in early May with the surgeon but I'm hoping to hear back before then.
"The first three or four days were rough with the shock and just keeping it to myself and family and close friends.
"It was the same day that we got the news the lower leagues could return, I was buzzing and wasn't really worried about what the doctor was going to say.
"They got straight to the point, stage two skin cancer and then I don't remember much of what was said after hearing that.
"Since then I've just got on as much as I could with my life, speaking out on social media helped.
"It was never not going to be tough and now I can hopefully see the end and get back on to the pitch."
Graham also said the support he has had from Stenhousemuir, as well as former clubs Dunfermline and Hearts, has been fantastic.
"I couldn't have asked anymore from the club.
"The management, chairman, CEO and players have all been brilliant and I've had lots of support from my old clubs too.
"The fundraising and climbing Ben Lomond was good to take my mind off it, it gave me something to do.
"Now it's about getting back on the pitch sooner rather than later.
"When I first joined Stenhousemuir I was just looking to play senior football for the first time, I got a goal on my debut against Cowdenbeath and took my opportunity.
"Things were going well but now I just need to focus on getting back to it.
"When I got the diagnosis I didn't think I'd be back this season, that was where the fundraising came from, but if the scars heal I'm hoping to be back training by the end of this season."
Graham is out of contract this summer but the Warriors have confirmed they are keen to keep a hold of the midfielder and Graham says he wants to still be playing his football at Ochilview next season.
"I've loved my year here and want to be with Stenny next season, I'm not interested in anything else.
"Even before this happened I knew I wanted to be here more than just the one season and since then the club have proved how amazing they are."
Stenhousemuir CEO Jamie Swinney told the Herald: "Cammy joined the club and immediately made a really positive impact despite his age.
"He scored some important goals that won us points and we're keen to keep him at the clu and grow him into an important part of the team .
"Since he's had this shock news he has shown real resilience and strength of character, it's a testament to him.
"He's been trying to keep involved and been down at training but he's desperate to get back out there with the rest of the boys.
"We as a club will do everything we can to support him and we're hoping now that he's had the surgery, once the results come back, he can get back training and hopefully be playing again before the end of the season.
"That's his target and we hope to resign him for next year as well once he's through this."
Graham's Justgiving page, raising funds for Melanoma UK, is still open and donations can be made HERE.