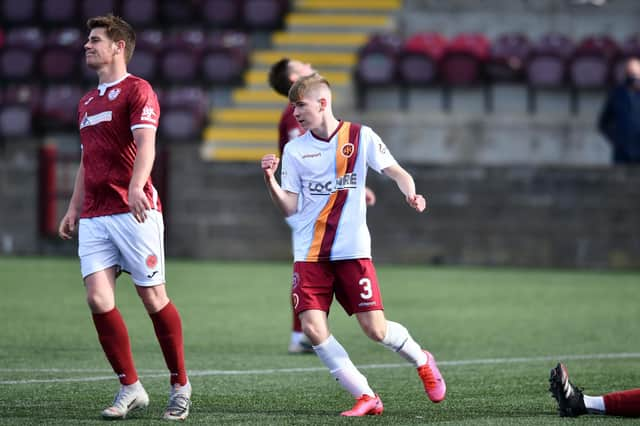 Cameron Graham scored the winning goal in Stenny's 2-1 friendly win over Kelty Hearts last weekend as a trialist and signed a deal with the Warriors a few days later
Midfielders Cameron Graham and Paul Brown have joined the Warriors after their release from the Championship side this summer.
Eighteen-year-old Graham left Dunfermline in the summer and started training with Stenhousemuir in August when football resumed.
He can play behind the striker and either wide position as manager Davie Irons adds to the squad ahead of the new season.
Graham recently scored the winner against Kelty Hearts when he came off the bench in the second half as a trialist and was soon rewarded with a contract at Ochilview.
Brown (19) has been training with the club since August. He graduated from the Fife Elite Football Academy and also had a period on loan in the Juniors whilst full-time at the Pars.
Stenny boss Irons spoke to the club's official website about the two players by saying: "Cameron has earned himself an opportunity at the club.
"He has trained very hard since joining and has contributed well in game time. I was delighted he got the winner at the weekend as he has worked extremely hard since we started pre-season.
"I feel there is plenty more to come from him, he is a player that has the potential to excite supporters and win games by creating and scoring regularly.
"Paul has impressed since he came into the club.
"He has a fantastic attitude and desire to compete and applies himself very well.
"He is a different type of midfielder to what we have already in the squad, he looks to break the game up and is aggressive and dynamic when defending.
"Unfortunately he sustained an injury during pre-season so he has not featured for us yet but we look forward to him returning soon."