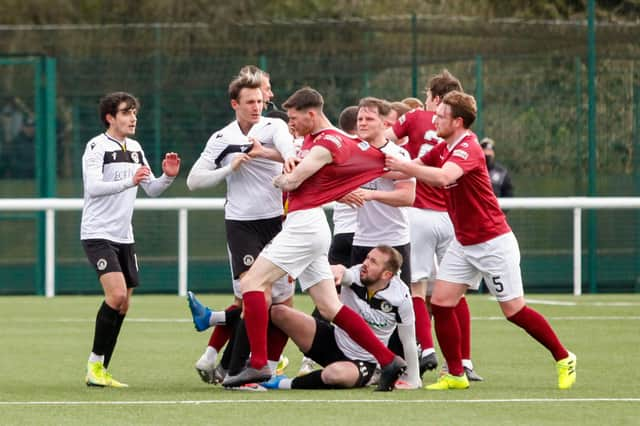 Creag Little was sent off in the game against Edinburgh City after a brawl broke out amongst the two sets of players at the end
The Warriors suffered back-to-back defeats away to Edinburgh City on Saturday then at Stirling Albion on Tuesday leaving them ten points behind both in second and third place.
They are also seven points behind Elgin City and Stranraer, who are vying for fourth place, and Irons knows they need to make up ground in the next six games or face the prospect of the bottom half of the league split.
"Overall it's disappointing as we didn't' make an indent on the two teams we're chasing," said Irons.
"There are six games left and we've given ourselves a big job to try and catch the teams in the play-offs.
"We need to make sure we start taking points every game from now till the end of the season.
"The last thing we want is to finish in the bottom half and play what would be meaningless games for us, although they wouldn't be for the teams we'd be playing.
"I'm hopeful though we will have enough in our tank to catch one of the teams above us.
"It will be difficult but we have the players who can do it, we need to believe we can catch these teams."
Stenny ended both their last two matches with ten men on the park after Creag Little was sent off in injury time in the 3-1 defeat at City and Tommy Muir was shown red in the final ten minutes of the 1-0 loss to Stirling.
Graham Grainger was the referee for both fixtures and Irons says he felt both decisions were unjustified.
"I'm not making excuses, we lost the games, but those two decisions are costing us players. He got the first one wrong, he said he sent off Creag for a headbutt and there's no evidence of that. A 20 man brawl erupts and not one of their players is booked, to send off one of our players is outrageous.
"Then on Tuesday you'd need to see it to believe it, Tommy Muir sticks his foot out to make contact with the ball after their keeper drops it and the ref says he tried to stamp on him."
Stenny have a break from league action this Saturday as they host Kilmarnock in the Scottish Cup.