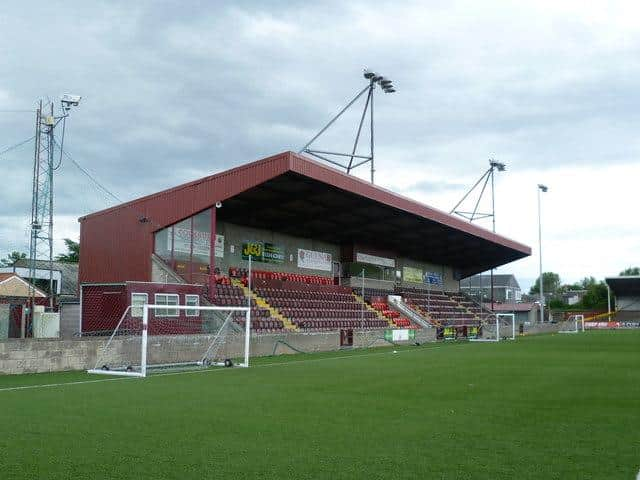 Ochilview
In an unprecedented move for a part time team in Scotland the Warriors have brought in 12 new members of staff who will act as an essential support function to the clubs management team by providing statistical analysis, individual and team performance analysis, and recruitment analysis.
The performance analysis team will focus on preparation for the next game by supplying key statistical data, bespoke illustrations and graphics, and match footage to the management team and players.
The recruitment team will be charged with the responsibility of supporting talent identification, using statistical data and footage for comparison and review to aid the decision making process with regards to recruitment.
Stenhousemuir FC CEO Jamie Swinney
Stenhousemuir CEO Jamie Swinney commented: "The club is committed to using this period to redesign and innovate its football department, a successful football team is a key component of a successful club.
"Our vision is to deliver an exciting team on the park as part of a progressive, modern and forward thinking football club. We want to inspire our supporters and our community through our first team and give them a team they can be proud of. A performance football strategy can help us achieve this aim.
"The changes we have made recently are fundamental to the clubs progression.
"There is a high level of talent within the group and they all have a real passion for the game.
Stenhousemuir FC manager Davie Irons
"They posses a range of different skills sets and have some excellent ideas; they will add real value to this club.
"As a club we are passionate about giving people opportunities, I hope we can support their development and help them with their own career aspirations."
Manager Davie Irons added: "I think it's testament to what the club are trying to do.
"They've put it out there, I think it started out quite small scale but the response was unreal.
"On the back of that they looked at it and how to break it down and utilise as many of the people who had applied.
"It gives them a real opportunity to gain experience in the football industry and it's great for us in the coaching staff.
"I'm looking forward to getting involved in it, it is going to save us all a lot of time and will allow us exact aspects of games to focus on and work on.
"I think the players are all quite excited about getting regular feedback on their performances as well.
"It takes away a lot of grey areas on opinion as we can show them the analysis and it's a great way for the players to learn and will benefit everybody involved.
"All credit to the club for developing this."
Making up the 'Performance Analysis' team are Richard Florence, Neil Alexander, Andy Japp, Craig McDougall, Ross Horsburgh, Marty Rowan and Josepth McGlynn.
The 'Recruitment Analysis' are made up of Ainsley Stott, Daniel Obwegeser, Jordan Sundborg, Stephen Gillies and Adam McManus.