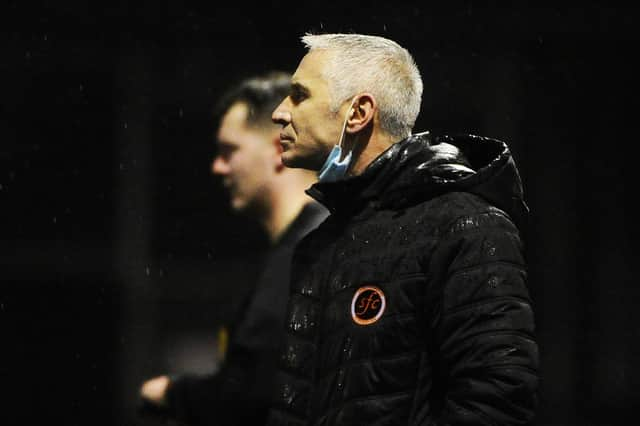 Stenhousemuir Manager David Irons
It's widely accepted that, if clubs are allowed to return in March, that there will not be enough time to complete all the remaining fixtures.
Possible solutions have been touted including playing half a regular season, 18 games with each team facing each other once home and away, and a mid season league split similar to the Premiership.
However, Irons believes it wouldn't be right to "shift the goalposts" at this stage given that 27 games is what was agreed.
He said: "From a personal perspective I think changing the competition less than half way through is wrong.
"I know the circumstances are unprecedented but it would just add to the whole unfairness issue.
"I'd rather null and void the season than just play 18 games, we'd be going back to play another nine league games with no crowds or income and the furlough system stopping so there is no benefit in doing that for us.
"I'd be more open to a split rather than just 18 games but how do you call that? I don't know.
"Obviously we want to be back and playing but without the fans its just not the same so what do we have to gain to go back and play?
"I know it's different for other teams, Queen's Park would probably have gone on to win the league and gain promotion but 27 games is what was agreed and I just don't think it would be fair to shift the goalposts now."
While it may not be a universally popular opinion, Irons also made clear that the reason League 1 and 2 clubs are now is this situation is that they have been let down by the SFA, an opinion not uncommon amongst other clubs.
"We had no issues in League 1 or 2 and all of a sudden we had to stop, we got together and put a proposal together that wasn't deemed acceptable and we still don't know why.
"We were the sacrificial lambs to let the premiership carry on and continue to make errors like what we saw with the Rangers players last week and even the SFA with a referee at the weekend.
"You look at Alloa playing Arbroath last weekend, two part time teams, I just don't get it.
"I know it's not an idea that would go down well (null and void) with teams chasing promotion but we've all been let down by the SFA."
It is also worth pointing out that no official statement has been made as to whether or not clubs will try and play out the remainder of the full season but that is something that Irons, and several other managers, just don't see as being realistic with the time remaining.
"If we return in March I imagine most clubs would require three to four weeks training to prepare for games returning because you have to look after the welfare of the players.
"You would need at least four weeks training to get them back to a fitness level that will allow them to play a couple of games a week.
"So you're talking about returning to playing in April, I don't see playing the rest of the season as being possible."