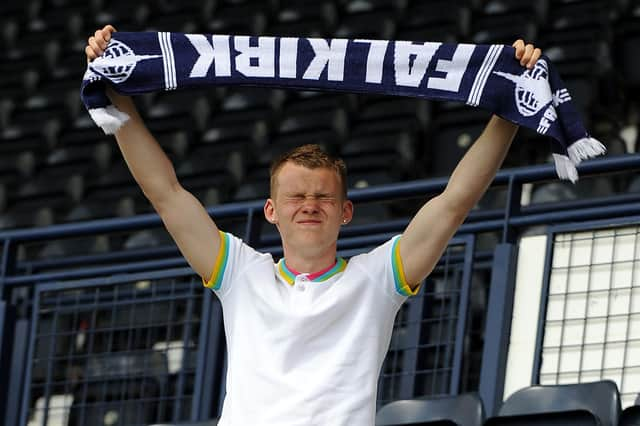 Falkirk were relegated on May 8, 2010. Picture: Michael Gillen.
He didn't quite thump his fist on the table, but he did guarantee it. Steven Pressley was insistant that the Falkirk squad he was inheriting in February 2010 would not go down as he was confirmed as Eddie May's successor.
"Make no mistake about it, Falkirk will stay in the Premier League." Steven Pressley, February 11, 2010
May had resigned from his post after nine months in charge, and on the back of a 1-0 home defeat to Kilmarnock, the Bairns' relegation rivals.
Steven Pressley. Picture: Michael Gillen.
They'd come back to haunt them later in the season, and defy Elvis' emphatic assurance. But it was close.
Kilmarnock and Falkirk seem to meet when it counts. Similar sized clubs, similar sized supports, similar sized towns.
The two have met in Scottish Cup finals, twice, plus a replay. They've been involved more recently in the SPFL Championship play-off final, where the winner stayed up.
And they were involved in this one. This one wasn't meant to be a play-off with a similar fate on the line, but it was, on the final day of season 2009-10.
Pic Michael Gillen 08/05/2010. FHS KILMARNOCK, Rugby Park. Kilmarnock v Falkirk - SPL (final match). Enoch Showunmi (15).
Jimmy Calderwood's team had more to lose. They just had to avoid defeat. Falkirk had to win.
The Bairns had been bottom all season but there had been fleeting glimmers of hope. Holding Celtic to a point at The Falkirk Stadium, defeating Aberdeen at home too and beating Motherwell away.
They'd passed up a great chane to rescue themselves and have their fate in their own hands against ten-man St Mirren, but blew it by conceding late to Stephen O'Donnell after Scott Arfield's penalty.
So it came down to a hot day in Ayrshire. Winner takes all but as you were was bad for the Bairns.
Ryan Flynn sent Falkirk's best chance over the bar. Picture: Michael Gillen.
And it was close, as close as the sides were in the table. And it came so so close – a sliding doors moment to fit perfectly with this current online series.
The turning point, where a decade of Falkirk's history – and more – pivoted, came in the second half, with four minutes to go.
A ball flashed across goal from a clever Enoch Showumni flick-on and Ryan Flynn, who'd been outstanding under Pressley in the second half of that season and was to go on to be even better the following year, thrust out a leg.
Goalkeeper Alan Combe was nowhere. The goal gaped. Flynn, around ten yards out, thrashed his foot at it.
Pic Michael Gillen 08/05/2010. FHS KILMARNOCK, Rugby Park. Killmarnock v Falkirk - SPL (final match). Ryan Flynn (11).
The ball landed behind the goal with the Falkirk fans. No-one caught it. All had their heads in their hands.
Carl Finnigan came close either side – penalised for pushing Combe over the line with the ball and later having a strike spin inches wide, but Falkirk were down and a decade – plus interest – has been spent outwith the top flight.
What if that shot from Flynn – or indeed any from Finnigan – had gone in? What if Falkirk had stayed up?
Martin Ritchie at the time suggested it would cost the Bairns £2m of income. In reality it's been more. Much more.
While Falkirk have languished in the second and now third tiers of Scottish football, Kilmarnock have yet to look seriously threatened in moving into their fourth uninteruppted decade in the top league. OK they looked vulnerable for a couple of days between WIll Vaulks' last minute first leg winner in 2016 – but Greg Kiltie quickly seized the initiative in the return back at Rugby Park.
In the decade since that day in 2010, they've received substantially more in prize money, the Bairns just pennies in comparison. Indeed in the figures available at time of writing – which co-incidentally reflect back to the last time the sides met in 2016, Kilmarnock have netted almost 7.2m in prize money. Falkirk, by comparison and albeit on a slippery slope of poor league placings, have brought in just £1.2m – less than the average Ayrshire income per season, via the SPFL prize pot.
Despite throwing everything at Killie, Falkirk couldn't score. Picture: Michael Gillen.
Likewise, in the intervening period between that fateful day in May 2010, Kilmarnock have landed major national silverware – Falkirk, while close again in the Scottish Cup and several semi-final places, have not.
Just two points separated them ten years ago. Five years ago there were a couple of league places, and 180 minutes between them. Now, a decade on 22 places separate the sides.
Sliding doors, and sliding scales, indeed.
Where would the Bairns be had one of the many second half chances been converted? What would they have done with, on average, £1.2m extra to spend per season in prize money alone?
Would Kilmarnock be spending a tenth season outside the top flight, instead of the Bairns? Would Falkirk have maintained their place for a decade and pushed on, even into Europe? Would the Falkirk Stadium be complete with an east stand?
Who knows, but it's not all negatives to ponder too.
Had Falkirk had £1.2m extra each year ould they have blooded so many youngsters under Steven Pressley – the likes of which has produced sterling careers for Stephen Kingsley, Craig Sibbald, Jay Fulton and their peers?
Alan Combe (1) and Carl Finnigan (9). Picture: Michael Gillen.
Mark Twaddle (4) and Brian McLean (6). Picture: Michael Gillen.
Falkirk went down. Picture: Michael Gillen.
It proved the last game for a number of Bairns. Picture: Michael Gillen.
Pic Michael Gillen 08/05/2010. FHS KILMARNOCK, Rugby Park. Killmarnock v Falkirk - SPL (final match).
It was too much for some. Picture: Michael Gillen.