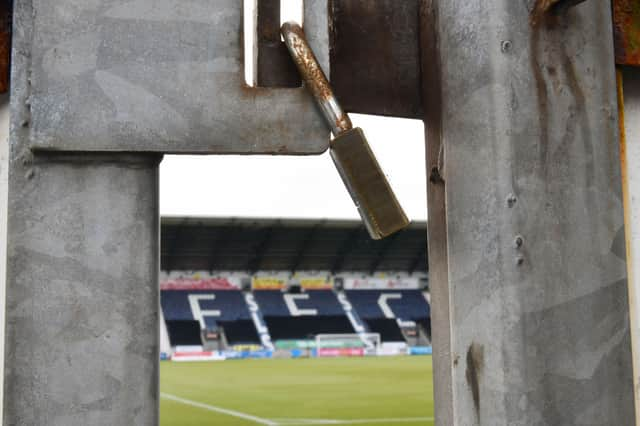 Falkirk FC's home ground will stay padlocked while football is shutdown. Picture: Michael Gillen.
Today, cash was forwarded a few weeks early from the Scottish Professional Football Association to help clubs in the coronavirus closure.
The money was due to be paid next month in the new financial year but has been delivered early to, hopefully, help cashflow in the absence of gate receipts.
It follows the Scottish Football Association also forwarding cash advances last week from a £1.5m pot.
Iain McMenemy. Stenhousemuir chairman.
But Stenhousemuir only received a tiny fraction of this fund, while Falkirk are believed to have taken only a few thousand more than their neighbours.
Stenhousemuir chairman Iain McMenemy wrote in his chairman's diary with our sister title The Scotsman: "Our need is immediate, so this was to be welcomed. A very healthy £1.5 million was identified with immediate payments to be made.
"We've now received our share… only £8,000. Are we all in this together? I'll leave that there."
Today, the league body sent £2,700 to the Bairns in League One and £1,350 to the Warriors, reflective of their League Two status.
Stenhousemuir's football operations are on hold - as is the entire country's game. Picture: Michael Gillen.
But should clubs in cash crisis - especially those struggling most at the lower reaches of the senior ladder be given more financial help? Rangers, Celtic and Motherwell at the top end of the top tier each received more than £400,000 including VAT. They also received incrementally more via the SFA payments based on the club licence status.
When asked by the Falkirk Herald this week, Falkirk chairman Gary Deans added: "If you take the 1.5m from the SFA and divide by 42 it's 35,700 per club - we didn't get anything like that so someone somewhere is getting a lot more than Stenhousemuir are and we are – but that's not unexpected or unusual.
"Someone at the top of the tree is getting more. But this has been formulated on an old formula. You'd hope football would be more collegiate and those that are really struggling have that taken into account. £8k for Stenny or a slice for us - it all helps but more would be nice and it's perhaps those clubs who are in the most difficulty who are the ones who be receiving least in these instances."
A further pay-out will be due to clubs from the governing body when league placings – and an end to the current season - are finalised.
Gary Deans, Falkirk FC chairman. Picture: Michael Gillen.