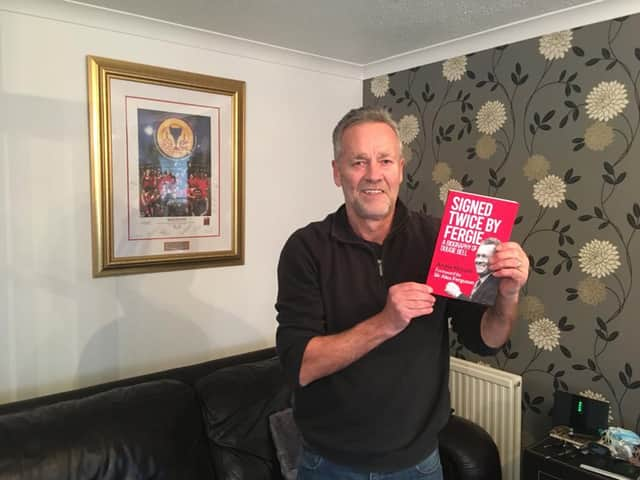 Dougie Bell is donating the proceed from his autobiography to Strathcarron Hospice and Beatson Cancer Charity
Signed Twice by Fergie, written by Archie McLeod and with a foreword by legendary ex-Manchester United manager Alex Ferguson, looks back over the career of the former St Mirren, Rangers and Hibernian midfielder best remembered as part of the Aberdeen squad that lifted the European Super Cup in 1983.
In it, the 61-year old recalls fond memories of a career during which he was twice signed up by former Falkirk forward Sir Alex, first as an apprentice at St Mirren then at Aberdeen.
All proceeds from the book will go to the Glasgow-based Beatson Cancer Charity and the Randolph Hill hospice, the latter having looked after Bell's late wife Hazel.
Dougie Bell runs onto the pitch before the Hearts v Aberdeen football match at Tynecastle in October 1980.
"The book is dedicated to her," he explained. "Archie McLeod, who I knew from my gym, approached me about writing one, and we both agreed to donate the proceeds to Beatson and Strathcarron.
"The staff at the hospice were wonderful, and I'm happy to be able to do this for them.
"The book's title obviously mentions Alex Ferguson, who got in touch when my wife was ill and also made a donation to the hospice after her passing, as did members of Aberdeen's Gothenburg Greats squad, which was a really nice thing to do."
Born in Glasgow's Possilpark but raised in Cumbernauld, Bell, in the book, recalls the early stages of what would go on to be a memorable career and how he almost signed for Falkirk before joining Aberdeen.
Rangers' Dougie Bell without his teeth during the Rangers v Hearts football match at Ibrox in August 1985. Final score 3-1 to Rangers
"When I was a boy, I was playing with Cumbernauld United, then started working, which meant I couldn't play on a Saturday, but Norrie McKay, the Cumbernauld coach, got me a trial at St Mirren because he knew Fergie," he told us.
"I played for them in a friendly against United and he signed me as an apprentice straight away. It was an exciting time as St Mirren had just been promoted and were getting big crowds.
"Fergie put me out on loan for the season to Cumbernauld United, and when I was there, Celtic showed a bit of interest in me, and when he found that out, he made me full-time at St Mirren. I made my debut that year and scored against Celtic in the last game of the season.
"That was his last game before he left for Aberdeen. It was only my second game for St Mirren.
"I then played a season under Jim Clunie, who never fancied me as a player, and I left at the end of that season.
"Falkirk phoned me and I was going to go to Brockville for training, but Fergie rang saying he wanted me at Aberdeen and I signed the next day.
"You never can tell how things might have worked out had they gone differently and I'd signed with Falkirk, but obviously going to Aberdeen was the making of me."
That was the second time the 79-year-old signed Bell, and the pair would go on to have tremendous success with the Dons along with other greats such as Gordon Strachan, Willie Miller and Alex McLeish.
Having one of the game's greatest-ever managers sign him twice remains a source of pride for Bell and he remembers Sir Alex as trusting him as a player for big occasions.
"My debut was against Spurs, whose midfield was Glenn Hoddle, Ricardo Villa and Ossie Ardiles. From a young age, I liked the big games, and Fergie played me in those because he knew it brought out the best in me," he said.
"He liked giving young players their chance. When I signed, the likes of Willie Miller and Gordon Strachan were already established, but we had Alex McLeish, Jim Leighton, Peter Hewitt and a few others just starting to make their breakthroughs."
That Aberdeen side were all-conquering in Scotland and Europe, and Bell would meet his future wife in the Granite City, but he stayed close to his family, trying to visit his parents in Cumbernauld every weekend.
"I used to try and wangle a ride down the road on the away team bus," said Bell.
"It could be a bit awkward at times, but you would usually stop at a chippy at Stonehaven, so that was good."
After leaving Aberdeen in 1985, Bell signed with Rangers, having nearly had his career and even his life ended due to a serious injury.
"I picked up an injury in my final Aberdeen game, playing against Hearts, when I broke my ribs after a collision," he said.
"A few days later, I went to hospital and it was touch and go because they discovered the broken ribs had nicked an artery and I had internal bleeding in my lungs.
"After that, it took me a while to get back playing, and when I signed for Rangers, I wasn't myself.
"Psychologically, I was always trying to protect my ribs. I played about 26 games for Rangers but wasn't as effective as I'd been, then at the close season break, Graeme Souness came in, and after that, I was a bit more myself, playing better, but with Souness there, it was probably time for me to move on."
After his stint at Ibrox, Bell went to Hibs before moving south. During his time in England with the likes of Shrewsbury Town and Birmingham City, Bell played with and worked under other familiar Scottish names including David Moyes, Dave McKay and Lou Macari, to name just a few.
Bell's book can be bought via Amazon in paperback for £5.99 or for Kindle for £2.99.