Scottish Cup - here we come! SFA criteria fulfilled by local football clubs Camelon and Dunipace
Camelon Juniors and Dunipace have fulfilled the criteria for a senior football licence and admission into the Scottish Football Association.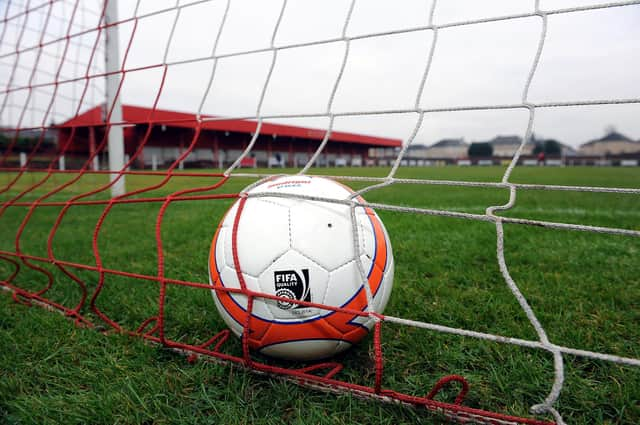 Carmuirs Park will host Scottish Cup ties next season after the landmark ruling. Picture: John Devlin
Camelon Juniors and Dunipace FC have fulfilled the criteria for a senior football licence and admission into the Scottish Football Association.
After a narrow rejection last year the Carmuirs Park committee was undeterred and pushed on with the Mariners' ambitious plans to sit at Scottish football's top table. They'll have their status ratified in June and be joined by Falkirk district neighbours Dunipace who met the Entry Level criteria with no outstanding variances.
Having moved from the juniors into the East of Scotland football league, and thus the senior pyramid with access to the SPFL, the next step for both local clubs' amibitions was the SFA's stamp of approval which brings a host of benefits, and annual entry into the Scottish Cup.
After successful audits the good news was delivered to Westfield and Carmuirs Park last week.
Upgrades including floodlights have been implemented at the Camelon's canal-side ground to satisfy the governing body's needs and club secretary Tony Smith said: "The committee would like to express our sincere thanks to the people who have worked incredibly hard for two years to make our vision a reality.
"We've had to do things the hard way but to say we're delighted is an understatement."
Mr Smith added: "We're looking forward to the Scottish Cup next season now, and every year which brings its own traffic - just look at Broxburn going to St Mirren this year.
"This achievement is down to the determination of people who love their club. With sponsors, fans, committee members, local businesses and our management team all pushing in the same direction, we've achieved something that previously seemed impossible.
"I can't begin to say how proud I am of the club and everyone who has taken part in this massive project."
Since Dunipace movedfrom the juniors to the EoS there have been plenty of positives at Westfield Park. They can list a new -look ground, a new league with new opposition, increased local interest and increased participation through the club's under-19 and under-20 Development teams to name but a few.
Boss Gary MacMillan said: "This is another fantastic step forward for the club, a huge amount of effort expended and commitment shown by a number of people to get it done. From a football perspective access to the Scottish Cup is obviously exciting and something we hope will enthuse the people of Denny and Dunipace to come out and support the team on that adventure.
"But more importantly it shows our commitment, on the back of the recent ground redevelopment at Westfield, to continue to improve the club for the community into the future. The committee has worked tirelessly to get to where we are.
"As current custodians of a club that was here long before any of us our duty is to ensure that, after a period of decline, we put the foundations in place to ensure that Dunipace FC is in a position to thrive long after we're gone."
The Pace travel to play Caledonian Braves this weekend while Camelon are also on the road to play East Kilbride at K-Park. Both games in the South Region Challenge Cup kickoff at 3pm.