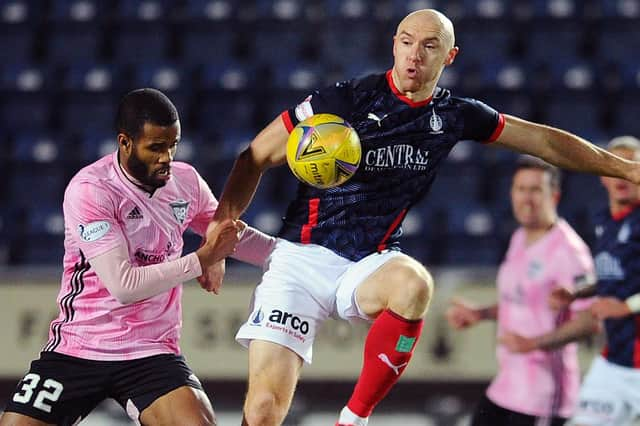 Conor Sammon scored Falkirk's second goal in their 201 win over Peterhead last weekend
The Irishman has represented a number of top clubs during his career including Kilmarnock, Motherwell, Hearts, Derby County and Sheffield United to name a few.
However, the long lay off imposed on players across the world this year gave him time to reflect and and has made him even hungrier to make the most of his remaining years as a player.
He said: "Sometimes, when you do reach a certain age, people can question certain things about your game, it's normal and natural.
"Right now I'm really enjoying playing, the whole COVID situation made me even hungrier to make the most of the time I do have.
"On an individual level I've been working as hard as I can and trying to bring my strengths to the game on a Saturday and help the team as much as possible.
"I've been fortunate to not have any major injuries or niggles so physically things haven't changed much but mentally it's made me even more determined.
"You want to play competitive games and test yourself and not being able to do what you love to do has made me realise to take nothing for granted and make the most of it."
Sammon, who scored in last Saturday's 2-1 win over Peterhead, is enjoying the mentality and competition for places in the Bairns squad at the moment with everyone working hard and working together to keep up their impressive unbeaten league run.
"The way we are playing just now is great.
"The football is good and more importantly we're winning games.
"Everyone is working hard to make sure we achieve our goals.
"Competition for places is healthy and long may that continue because it's a positive position we are in. It will only push us on to new levels."
Falkirk are away to Clyde in their latest League 1 fixture this weekend as they look to maintain or even extend their four point lead at the top of the table.