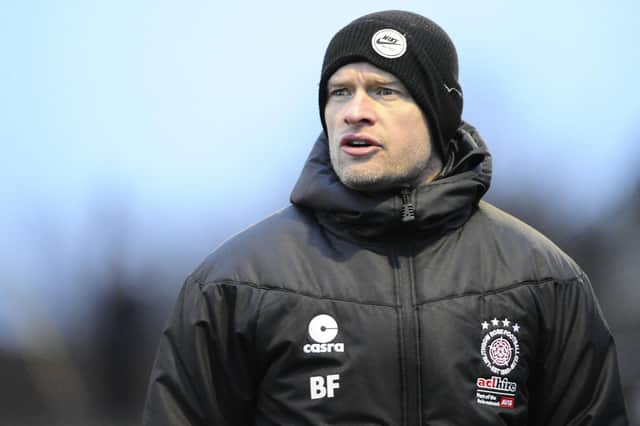 Linlithgow Rose manager Brown Ferguson (Pic by Alan Murray)
"Unfortunately Camelon are not allowing either Mark Stowe or Alan Docherty to play games of football," Ferguson said.
"So we've got to wait until their contracts at Camelon expire on July 1 for us to be allowed to play them.
"I find it flabbergasting and I don't know any other club that conducts their business in this way.
"Every single other club allows players to go and play because it's just the right thing to do. But for whatever reason as a club, they've decided not to do the right thing.
"I'm frustrated by Camelon's actions. There's a right way to do things and there's a wrong way to do things.
"I think for me this is the completely wrong way of doing things. When players come to the end of their contract and come into a new season, you wish people well and move on.
"For whatever circumstance that is. People make a decision to either release a player and let them go or players decide to move on for one reason or another.
"That's the business of the player or the club of course but for whatever reason, Camelon are standing in the way of these lads actually trying to progress."
Camelon Juniors chairman Gary Clark said the matter over whether Stowe or Docherty could play for Rose before July 1 was in the hands of his committee.
Ferguson added: "It's a frustration for me, it's a frustration for the players themselves but the two of them are training well and I'm pretty sure come the first chance they get to play they'll be raring to go.
"From July 1 there is nothing to stop them playing for us but unfortunately for those lads they are missing out on the chance to play in a couple of really good pre-season friendlies and get up to speed.
"I have never known this to happen before but for whatever reason Camelon seem to want to conduct their business in ways that other clubs don't.
"It just goes back to the morals, it goes back to doing the right thing.
"People move on for reasons that others have to respect. I've always been the type that you shake hands and wish people all the best.
"When you confront them again or play against them again, whenever that time comes, you are able to either go and prove a point, but until that point comes then good luck to those players."
The friendly success for Rose at Whitburn on Tuesday started in disastrous fashion for Rose when the hosts took the lead in the very first minute, a cross ball deceiving keeper Lewis McMinn and ending up in the far corner of the net.
But it was soon 1-1 when a free-kick into the box was knocked home by Gary Thom.
Thom then netted his second following a corner and the win was secured when Ruari MacLennan scored after Linlithgow had dispossessed their hosts.
With Rose leading 3-1 within the opening half hour, there was no further scoring for either side.
"The biggest thing was just seeing the players back playing football after five months," Ferguson said.
"We want to win games of football because that's just the competitive nature in everybody. But ultimately it's about seeing things on the pitch that you've been working on, having a look at how the players are performing etcetera.
"What was evident for me was the players were taking on board what we were speaking about in terms of our shape of play, still with things to work on of course.
"I thought there were some good individual performances, we scored from setpieces which is obviously an important part of the game, and the players looked fit.
"Given the layoff that they've had, I was really pleased with Tuesday night's work, albeit there is still work to be done.
"It was a freak goal early on which gave us a bad start but the players responded, they didn't let it affect them and they kept trying to do what we've been working on and they got the rewards for it as the game wore on.
"Other than losing the early goal and later handling the ball outside the 18-yard box, Lewis McMinn had a fine debut and pulled off a very good save in the second half.
"His distribution was very good and he looked very composed.
"Cammy Thomson at left back was excellent in the game, he had a very good accomplished debut.
"Unfortunately Thomas Halleran couldn't play because he'd just had his Covid vaccine the day before."
Ferguson revealed that he's assessing two triallists – a goalkeeper and an attacking player – at the club at the moment and they are "doing well".
"We will hopefully make calls on that over the next week," he added. "We will respect the players' decisions and thoughts as well.
"We're actively talking to a couple of other players as well who are not in with us. There's still a bit of business to be done but as things stand I'm really pleased with the players we've got."