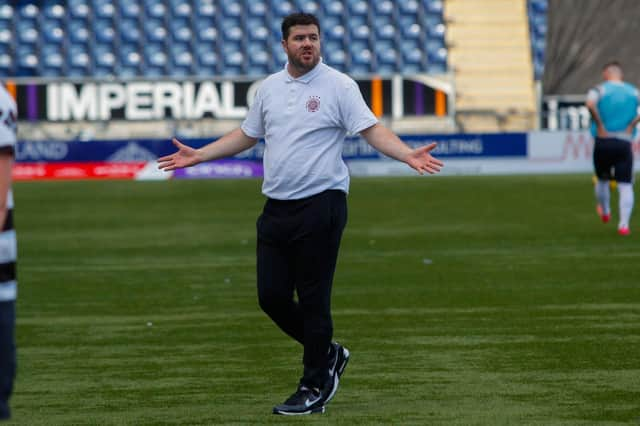 Gordon Herd was stunned by the opening goal in Saturday's 2-0 cup win at Dalkeith Thistle
This put Rose 1-0 up in bizarre circumstances in this away East of Scotland Qualifying Cup third round clash, with the 2-0 win later sealed by Alan Docherty's strike early in the second half.
"It was a good own goal wasn't it?" Rose boss Gordon Herd told the Journal and Gazette.
"It's just one of these ones where their player has gone to kick it, it's taken a wee bobble and it's ended up in the back of the net.
"It's one of the most bizarre own goals I've been involved in. I've seen plenty on the telly but I don't think I've ever seen one as bad as that in real life.
"I don't know whether the boy's just gone to kick it up the park and if you watch it closely, like I say it's taken a wee bobble and it's gone the opposite way from what he's wanted.
"I can't quite explain it. It defies physics if you know what I mean.
"It was a good wee start for us but again we should have been well out of sight if we'd taken our chances."
Third placed Rose – 13 and 12 points respectively behind the East of Scotland Premier Division's top two Penicuik Athletic and Tranent Juniors with one and two games in hand respectively – are back in league action this Saturday at home to seventh placed Jeanfield Swifts, kick-off 2.30pm.
Herd is confident after an excellent recent run for his in form side.
"It's probably the biggest league game we've had since we've been at the club," Herd said.
"It will be a good test for us.
"Jeanfield are a really good side.
"I think they are one of the best footballing sides in the league so it should be a tasty tie.
"Winning brings confidence and that's seven wins on the bounce, seven out of eight all in.
"The training's been excellent and like I keep saying, I can't praise the boys enough.
"They've really bought into what we're selling kind of thing.
"A big amount of praise goes to the boys for how they are applying themselves at training and on a Saturday."