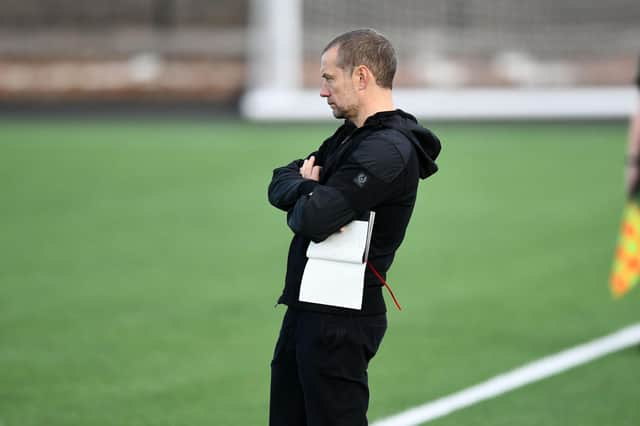 Bo'ness United manager Max Christie
The decision, which was announced on Monday, sees all football activities for teams below SPFL Championship level stopped for at least the next three weeks and Christie believes it wasn't right that they were able to travel across the country in the current climate.
He said: "I'm gutted but I understand the logic.
"I think as much as it disappoints me and I was loving football it's the right decision.
"With regards to business shutting down and people not getting to work, us having limited or no testing and travelling the length and breadth of Scotland to play wasn't right.
"In the current climate that everyone is living under and us being able to play football without testing, I can see why it has happened."
The BU's had only played ten of their scheduled 32 league matches when the suspension came in to force due to weather postponements meaning an already busy schedule of games could be set to become even more hectic when and if the season does get back underway.
For Christie though he says he is relishing a potentially busy schedule as this latest closing down of the game as well as the last has made him realise how much he loves football and how privileged he is to be involved.
"It will be hectic, I think we have played the least amount of games of any team in the Lowland League so it will be a busy schedule if and when it does come back.
"If you're involved in football though then you love it and it's great to get out the house so we will look forward to that schedule, it will be enjoyable.
"You've got to be patient, relax and take it as it comes. We will get playing football again and this makes you appreciate it more.
"You have to commit to football and make sure you enjoy it, it gives a bit of perspective to how lucky you are to be involved."
At the time of writing no plans had been set out by governing bodies for a return to action but Christie hopes they will have a period to prepare for matches when and if they return and not be thrown straight in.
"Our experience from the last lockdown was hamstrings being the biggest worry.
"It wasn't just us, a lot of clubs were having to deal with hamstring injuries so we will be rolling something out to get players capable of dealing with short sharp bursts when they come back.
"I don't know if they will have a wait time when we get back before play resumes, we will wait and see.
"No doubt if we get back in three weeks it will have given the players time to reset physically and mentally and go again.
"We've got a lot of games still to play so still a lot of football to be played."