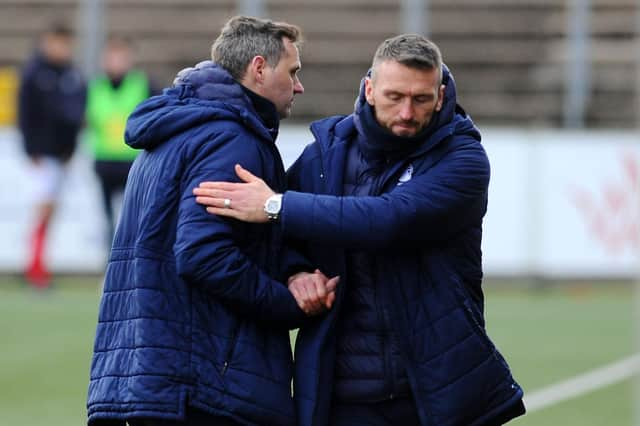 David McCracken and Lee Miller have to shoulder their share of the blame for Falkirk's recent run of poor performances but they have been badly let down by several of their players
The Bairns have only won one of their last five league fixtures and, although that form alone has been deeply concerning, the performances of players and constant changing of tactics and shape by the managers has been the greater worry.
Last Saturday's 2-0 defeat at Cove set alarm bells ringing as Falkirk were second best for almost the entirety of the 90 minutes.
Their failure to properly defend set pieces was a weak spot that former manager Paul Hartley targeted in that match and to great success, with both goals coming from dead-ball situations.
That problem has dogged Falkirk all season and, for one reason or another, they have not been able to set it right.
Then came Peterhead on Tuesday night, a display that McCracken himself said he was embarrassed by.
Once again the Bairns were second best for almost the entire game and Peterhead deservedly took the three points.
However, this was not title-challenging Cove Rangers with a squad full of star names at League 1 level. This was a Peterhead side confirmed to be bottom half before kick-off and unable to even name a full complement of substitutes on their bench.
While it is true there are no easy games at this level, and giving Peterhead all the respect they have earned over the years under the shrewd management of Jim McInally, there was only one team on the pitch that night who looked up for it.
While the managers do have to shoulder the blame and the buck stops with them, they can feel rightly let down by insipid performances by a number of players in that game.
They needed a reaction after the Cove loss and the players couldn't have looked less up for the match if they had tried.
That result, which also saw them drop off top spot, proved to be the final straw for Miller, 37, and McCracken, 39, with the board acknowledging their failure to turn recent poor form around as well as the calls from supporters for change.
Both will still be remembered fondly for their service to the club as players and it will be disappointing for all involved, including supporters, that they have not been able to add to those fond memories as managers.
Now the task of getting these players back to their best, something they have shown in flashes during this campaign, falls to Gary Holt.
The statement from the club makes it clear that Holt will be in charge for the remainder of the campaign and it's no small task ahead of him to get the Bairns back to the Championship.
There are four games remaining, all against the best sides in the division, with a two-point gap on form side Partick Thistle to make up.
The title still has to be priority number one and getting that challenge back on track starts this Saturday. Cove Rangers come to the Falkirk stadium and a defeat would almost certainly end Falkirk's chances of being crowned champions.
At this stage, though, they are still very much in the title hunt and a win on Saturday could very well be the jump start this campaign needs.
Holt, 48, has four games left and that can be seen as a positive just as much as it could be seen a negative.
If they can equal or better Partick's result this weekend and then win at Firhill in their next fixture the following Thursday, then they are suddenly back on top of the table with two games to go.
It's still very much in their own hands to go and secure the League 1 title and a return to the second tier.