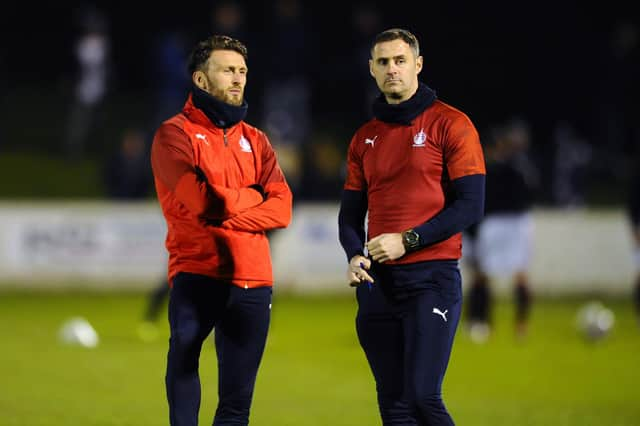 Lee Miller and David McCracken. Picture: Michael Gillen.
The duo returned from furlough last Wednesday with the tight-lipped club announcing their return just hours after The Falkirk Herald went to press.
But although it's only a part-time step back from three and a half months away from the club, there's plenty to fill his time with.
Already the Bairns are being linked with names both privately and in the national media, only natural with six players signed up plus the option of Miller pulling on his boots again.
There's also returning players' negotiations to organise, pre-season preparations including the new temperature checks, procedures and covid-19 processes, and generally getting back up to speed with those who have been around the club during the shutdown and developing areas that need it.
McCracken told The Falkirk Herald: "We came off furlough last week and were only in a couple of days. We're just part-time just now and catching up with where everything is at and meeting with the chairman and the board."We're obviously looking at the squad. We're doing all that alongside the planning for the return to training dates, we're looking at it all and what it will involve - this will be a pre-season like no other.
"There's a discussion to be had with the board - players from last year have been extended to July, it would be good to get them tied up again too – we're not just solely focusing on new players from outwith. We'll be developing that nucleus that we had last year and getting them settled, then we'll move it on from there.
"There's a number of positions to strengthen. It'd be good to get it done as early as possible, but it can take time."
Lee Miller and David McCracken are in permanent charge of Falkirk's first team. Picture: Michael Gillen.
Among areas to be addressed will be in attack with top scorer Declan McManus not returning after his weekend announcement.
McCracken added: "The club has been looking at different players for a while but with myself and Lee off furlough now, we can take hold of that and start trying to find players and speaking to them about adding to the squad next year.
"We don't want to give too much away until it's certain and there's a number of players in a number of positions we need to fill.
"We let five of the guys go, and then a few came to the end of their loans so there is a number of positions, and there are players in the squad we need to recruit back in again and it can take time."We're looking for the right person for the club, for the team, for the squad and even the dressing room - it's not just about the player, it's about doing the background checks and ensuring they're the right person for us at the club moving forward."