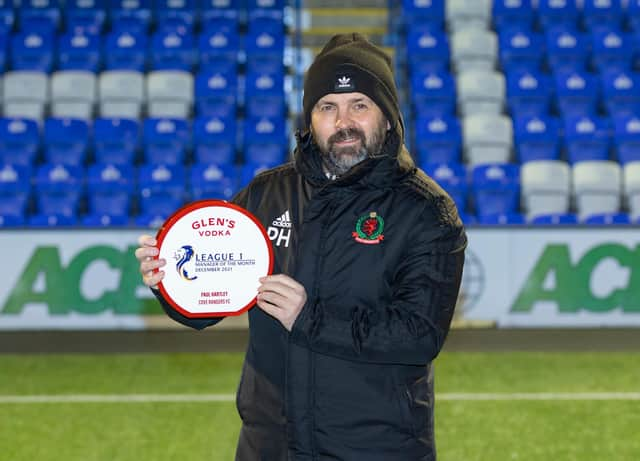 Hartley accepts SPFL 1 Manager of the Month trophy for December 2021 (Photo by Dave Cowe)
In another excellent month for Cove Rangers, Hartley led the Aberdeen side to impressive victories against Dumbarton, Alloa Athletic and East Fife, as well as Hartley's former club, Falkirk – winning all of the club's December fixtures, despite the harsh weather conditions.
Cove Rangers kicked off the new year at the top of the League One table, with Hartley securing the Glen's Manager of the Month title for the second month in a row.
Hartley said: "I'm delighted because this award is recognition of how well everyone involved with the club did during December.
"The fact it's the second month we have won it underlines the consistency the players have shown, despite the continuing challenges every club is facing at the moment because of the Covid pandemic. Every player has done his bit and maintained high performance levels to help us win some very tough games.
"My coaching staff, our medical team, the directors and everyone else involved at the club also did their bit to ensure the players had all the support they needed to do as well as they did during December.
"I also want to give praise the Cove Rangers fans, particularly those who made the long midweek trek to Dumfries for the cup replay and also went to Falkirk just four days later. They made their presence known at both games and helped inspire the players to deliver two excellent performances."