Obituary: Jack Gardiner - A Bairn through and through
Everyone connected with Falkirk FC were saddened to hear of the passing of Jack Gardiner who died on Saturday, February 13, at his home in Falkirk.
Wednesday, 24th February 2021, 3:32 pm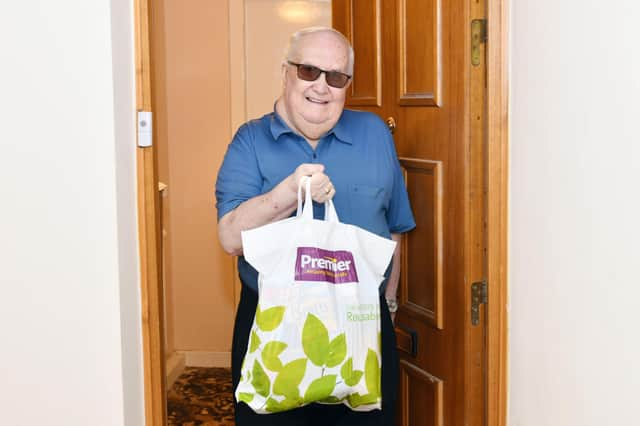 Jack Gardiner who sadly passed away last week
He was a Bairn through and through, and for many visiting directors to the Falkirk Stadium he was the first face they saw when entering the Boardroom.
Jack's previous experience as bar manager at the Hotel Cladhan stood him in good stead and he was a key member of the welcoming party.
Jack lived and breathed Falkirk FC and he gave many years of loyal and devoted service in a voluntary capacity.
When Sarah Scott and I were asked to see if we could do anything to help the struggling Falkirk Blind Club back in 2002, two members of Dad's Army were dragooned into service – Murray McIntyre and Jack Gardiner.
It would be fair to say that the pair didn't need much persuasion, and they threw themselves wholeheartedly into a tremendous rescue mission.
Bessie McCluckie had been an inspirational leader of the Blind Club, but she had seen her membership decline and their premises were badly in need of modernisation.
There and then, Jack and Murray promised Bessie that they would find her and the club a new home in the about-to-be-completed Falkirk Stadium.
Bessie and her club were found that new home and their membership figures reached unparalleled heights.
Jack and Murray deserve great credit for the transformation and Bessie acknowledged their role, despite the fact that she was a die-hard Shire supporter herself.
Jack was also a founder member of the Senior Bairns and was always first on the supporters' bus ready to help out with any task assigned to him.
His good humour was always appreciated by the members and you could bet that Jack would be the first to arrive for the monthly Monday morning meetings, firstly at The Cladhan and latterly at The Falkirk Stadium.
He was an ideal Mine Host in the Boardroom, and always ensured that visitors were well looked after and that they took away a good impression of the football club.
He was the epitome of tact and diplomacy, and he heard many stories and pieces of gossip that could easily have filled the pages of the local paper, but never once betrayed a confidence or carried tales.
I'll bet he could easily have written a best-seller entitled "Tales from the Boardroom" had he been so inclined. He handled quite a few delicate situations extremely well and not all of these were easily dealt with.
All of these duties were undertaken as a volunteer, and he did so willingly.
Falkirk FC was a huge part of his life and several Directors over the years would express their appreciation to Jack in person.
Chairmen of the club saw the role he played on match-days, and were glad of his genial, open and friendly style.
Jack Gardiner is a name that will never appear in lists of players, directors, chairmen or officials connected with Falkirk FC, but in many ways he contributed as much, and in many cases much more, than several that could be named.
He stood for all that is good about the unsung and unpaid heroes who keep the club going and he will be sadly and sorely missed by the many Bairns fans who knew him.