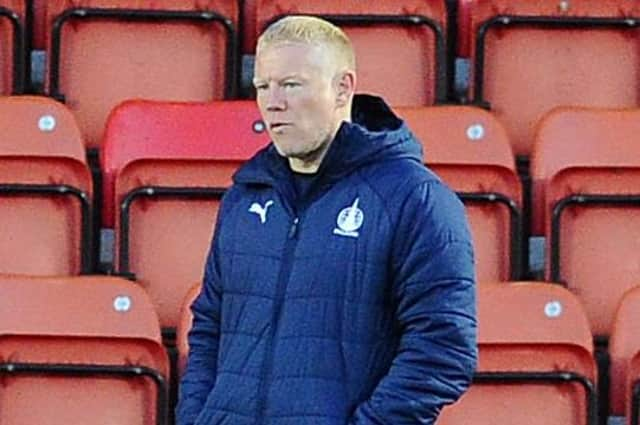 Falkirk interim-manager and sporting director Gary Holt expects a big overhaul of the playing squad this summer
Their 2-0 defeat at Airdrieonians, combined with Montrose beating Partick, means that the season is now over for Falkirk who finish in fifth place.
Speaking after the defeat, Holt said: "It's horrible, it really is, we make no bones about it that there is nothing we can say that will appease the fans.
"It's not me trying to work things into a way where we can get a bit of sympathy, it's not going to happen and I fully accept it.
"It's not through lack of effort but when you're down to the bare bones, playing a central midfielder at right back and have no other defenders available it's very tough to go this amount of games in a small amount of days."
Those injuries were the biggest reason Holt could give for their sudden and drastic drop in form over the past two months where they failed to win any of their final six matches.
The club's sporting director also cited a lack of confidence, lack of hunger and desire at times and bad luck as other problems.
When asked where he felt things had gone so wrong, Holt said: "Injuries, lack of confidence and a wee bit of naivety in games.
"That happens, we haven't had any luck, the majority of the defence has changed with injuries throughout the season and you're asking players like big Mark Durnan to come in and play even though he's not fully fit and he wants to do it because he knows what we're trying to achieve.
"That's the kind of character you need, you can talk about some frailties or technical ability and tactical knowledge but if you've got the desire and hunger it'll stand you in good stead."
After the 5-0 defeat to Partick Thistle last Thursday, Holt remarked that the players were playing for their future at the club and to earn new contracts, and says he expects a big overhaul of the playing squad this summer.
"They're always playing for their futures," said Holt.
"There will be changes, there's no doubt about that, that's football and we have to reassess where we're at and it's not good enough to be sitting where we are in the league.
"Sometimes players don't realise, you are a self employed footballer trying to earn more money or a new contract.
"Treat every game as your last and I don't think sometimes they realise that, it's going to have a massive knock on affect and that's the cold hard light of day they need to realise and we have to make them aware of that.
"It' something we have to look at, recruitment in the squad and all departments, and we will go again.
"There might be a big squad overhaul, that's down to the recruitment we do and the manager we bring in who will have input on that.
"We need to upscale with people's desires and hunger to achieve."
Now, with the season officially over for the Bairns attentions turn to assessing the candidates for the vacant managerial role, a process which Holt is heading up.
"There's been a fair amount (of applications for managers job) which I would expect, and we're in the process of going through them and can hopefully present a short list to the board by the 14th."