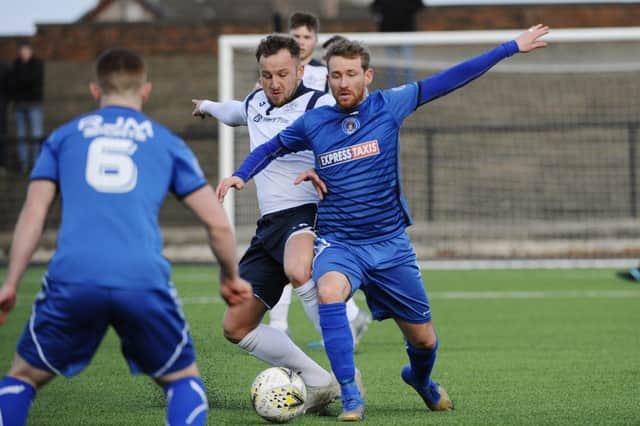 Bo'ness United in action. They now have competition in the senior ranks from Bo'ness Athletic. (Pic by Alan Murray)
BU chairman Iain Muirhead had outlined his deep concerns that Athletic - the new name for Bo'ness United Junior FC - would be joining the East of Scotland ranks next season at three tiers below the 'big' team in the Lowland League.
Muirhead expressed fears that having a second senior side in the town would result in both teams fighting with each other for sponsorship or bids to sign new players.
Dismissing Muirhead's concerns, Athletic secretary Derek Oliver added: "I want to see Bo'ness United progress.
"Our club is not going to do anything that is to the detriment of them, I think that's just wrong, churlish and childish.
"We're not going to do a Treasure Chest, we're not going to go after Express Taxis (BU sponsors).
"That's just not us. I've had the same sponsorship base since we were Linlithgow Thistle.
"It wouldn't be in the spirit of respect to be pursuing the same sponsors as Bo'ness United.
"Now that we are accepted into the East of Scotland League we look forward to the new challenge in the football pyramid and we look to work collaboratively with all stakeholders at Newtown Park to ensure what's best for the town of Bo'ness.
"I think there are discussions to be had about how things can work seemlessly at Newtown Park and certain boundaries can be drawn out.
"But we are looking to collborate with all the parties, all the stakeholders and Newtown Park Association that utlise the ground.
"We fully respect Bo'ness United's position. We respect that they are the club in the higher echelons of the pyramid.
"And as Bo'ness people ourselves we don't want to do anything that's to the detriment of Bo'ness United or their development.
"We will carve our own way, we will carve our own income streams and we will work with our partners to ensure that our development continues on the trajectory that we plan for.
"And ultimately we hope that the future of Bo'ness Athletic means that the collaborations can continue fruitfully."