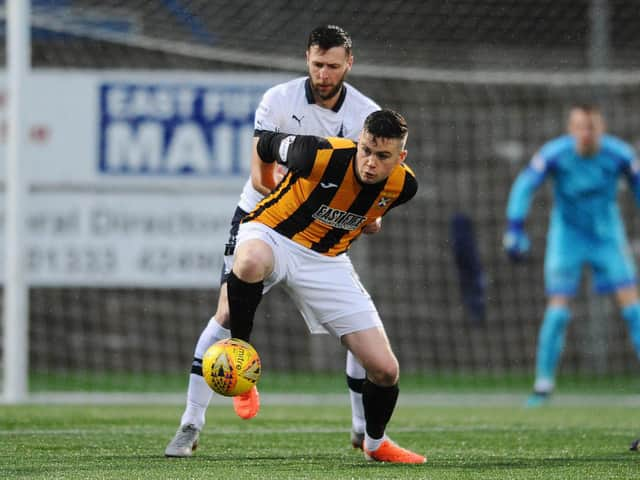 Anton Dowds in action against his new club for East Fife last season
The 23-year old signed on with the Bairns on Monday after two years at East Fife and says the facilities offered, ambition of the club and opportunity to work with the managers sold him on the move.
"I had a few options in the Championship," Dowds told Falkirk TV. "When Lee and David called me in for a tour of the stadium I was taken away by the facilities - the home dressing room, the gym everything is amazing here and will offer a brilliant opportunity to develop as a player.
"Falkirk is a massive club that should be going back up to where it deserves to be.
"I was getting assurances of game time with the Championship teams but coming here and working with Lee as a striker as well will be great helping me develop.
Dowds began his career playing with Heriot-Watt University while studying there and his performances in the EoSLeague caught the eye of East Fife.
A two year deal followed after a successful trial period and now the striker is excited by the opportunities that full-time football will allow him to develop his own game while trying to help the Bairns to promotion.
He said: "At East Fife it was really stressed how fit we had to be and when we came up against full-time teams we were able to really deal with the fitness side.
"I'm looking forward to having the extra time, not having to work and then go to the gym,
"I can physically get in better shape and get that extra sharpness that comes with being full time.
"As a striker you want to get your first goal early and get that monkey off your back but I like to think my game as a whole can bring other people into it.
"I'm going to work hard, I like to make things difficult for defenders, run the channels and have the ball at my feet - I like to play football.
"Then my height and physical attributes give another option as well.
"We're under no illusions, the objective is to get up and I want to be part of that and it was that ambition that made me interested in Falkirk."
Another big selling pint of Falkirk was the chance to work under managers Lee Miller and David McCracken and learn from them.
"It's probably the perfect combination for me as a striker. You get to learn from Lee as a fellow striker, but you can learn from David as a centre half too and learn what he doesn't like to play against.
"The managers are under no illusions, we want to get up and I want to be part of that.
"That ambition is something that made me really interested in coming to Falkirk."