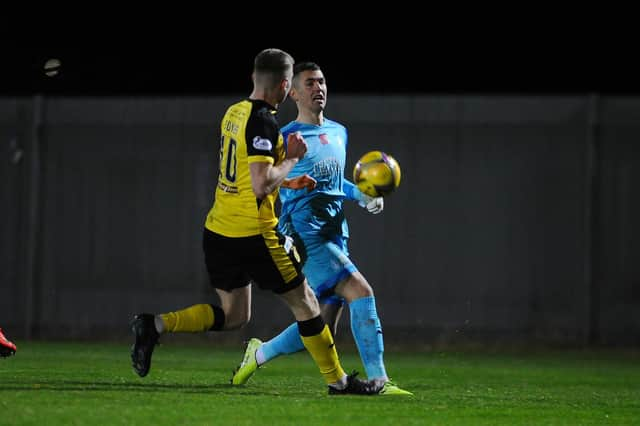 On-loan Motherwell stopper PJ Morrison hopes his performances get noticed by his parent club but says his focus is fully on winning the League 1 title with Falkirk
The 22-year old was brought in on-loan from the Steelmen to provide competition for Robbie Mutch but found himself in between the sticks earlier than expected when Mutch was sent off against Forfar Athletic in the second game of the league season.
Since then Morrison has held on to the starting berth at the Falkirk Stadium, performing well in the games he has featured.
"When I signed it was always in the back of my mind that Robbie was a top keeper and he would be performing well and I'd have to wait for my chance," said Morrison.
"I didn't expect it to come along so quickly but ever since then things have been good.
"It's always hard because he might have felt the same when I came in, that I'd be competing for him.
"You don't have a lot of room for error and it's good for me as it pushes me to perform every week."
Another aspect of holding down the starting jersey in goals that Morrison is relishing is working with and learning from some of the experienced defenders at Falkirk.
"With people like Paul Dixon, a Scotland international, you pick up a lot of things you wouldn't get playing reserve football.
"There's a lot of experienced players and It's a pleasure to work with all of them.
"I was on loan a couple seasons ago at Albion Rovers but there's a big leap from there to Falkirk, there's a lot more demand and it's not far off what you'd see at Motherwell if not more so as you need to aim to win every game."
Despite being fully focused on the task at hand with Falkirk, Morrison keeps in regular contact with his parent club and says it's good that he still feels part of the team at Fir Park despite being out on loan.
"Every Saturday after the game I phone my goalie coach at Motherwell, If I've got a game midweek he can make it to he'll come along and give me feedback.
"The purpose of me coming here is to get experience and show Motherwell I can go back there and push in to the team.
"The day I got on at Forfar Trevor Carson (Motherwell's first choice keeeper) got injured and directly after the game my goalie coach had a conversation with me.
"He let me know about Trev and said he'd do everything he could to help me stay at Falkirk as it was important that I was getting games, it wouldn't have done me as good to go back to Motherwell and sit on the bench after they got someone else in.
"When I came here my full focus was on Falkirk, I don't have too much time to think about what's happening at Motherwell, there's too much going on here focusing on winning the league and hopefully that goes well and I can get noticed."