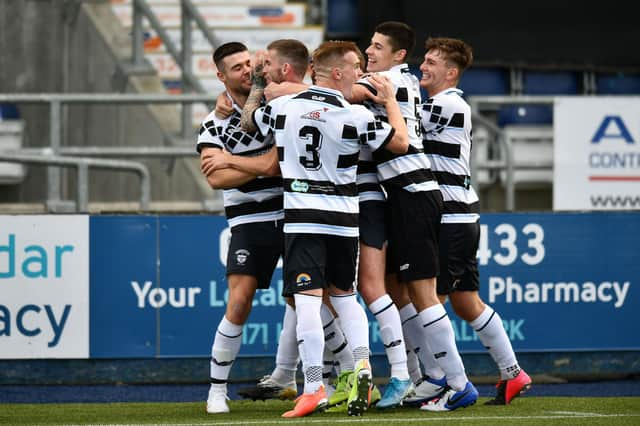 The Shire players celebrate after scoring against CS Strollers in their Lowland League opener last Saturday
The Shire kicked off with a 1-0 win at home to CS Strollers last Saturday and made it six points from a possible six on Tuesday night when they won 2-0 at Edinburgh University.
While Ure was pleased with the perfect start in terms of results he felt his players were capable of much better in terms of performances.
He said: "We've had a good start with six points on the board but there's definitely much more to come in regard to performance levels.
"We've had a stop start pre-season so to get those points on the board and knowing there's more to come in terms of performance I would say I'm happy with how we've started.
"Over the past few years it's been proven that CS Strollers give no team a free shot, they're always a very tough nut to crack which they've proved by drawing with BSC Glasgow on Tuesday night.
"Edinburgh Uni are a well organised side and now we face Dalbeattie Star this Saturday who will be a different test."
The fixtures come thick and fast this season and the Dalbeattie game will be followed on Wednesday night with Shire's first encounter with another side who will likely have aspirations of challenging at the top end of the league table this season – East Kilbride.
"The big games take care of themselves," said Ure.
"If you have aspirations to finish at the top end of the table you need to find ways of winning these games.
"Our aim is to start with nine points before we host East Kilbride on Wednesday.
"The boys want to do well and take part in these games and show how good they are and I've no doubt they will be able to do that."