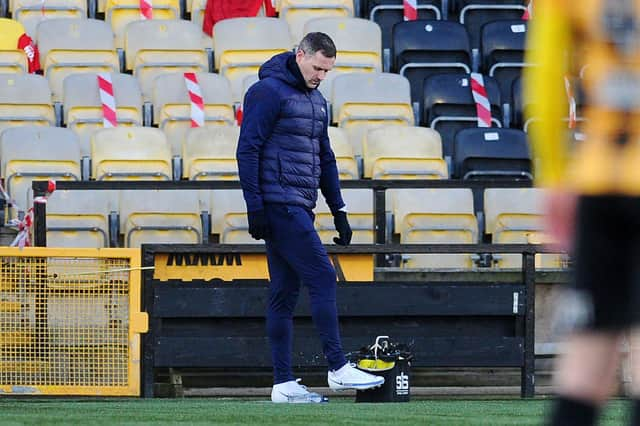 Falkirk co-manager David McCracken is in talks with a number of clubs about potential loan deals for talented youngsters
The experience of losing a loanee back to their parent club isn't exclusive to the Bairns with Premiership clubs across the country recalling their players but that hasn't deterred McCracken from looking to shop in the loan market once again.
He said: "We're actively looking at getting someone in to fill that goalkeeper space.
"We do have young Jay Cantley who has come back in to training so there is someone there but at the same time we'd like another to be a bit more comfortable.
"Every club looks at their own situation, Motherwell have had a difficult time in terms of their goalkeeping position so that's why PJ was recalled, we would be no different if we had to do that, it's exactly what we'd do.
"There's a number of clubs that are recalling a lot of their players, it does have a knock on effect but that's what you get taking in a loan.
"The other side is that some players who were out on loan are coming up and are available, we're in discussions with a number of clubs who are still making a decision whether to put a specific player back out on loan again or keep them to try and develop them themselves.
"We're focusing on ourselves and how we can better the squad if we need to.
"Loans are always a bit cheaper and sometimes you can get a player of a higher quality for a lower price, so to speak."
Meanwhile, back on the pitch, Falkirk are preparing for Scottish Cup action this weekend as they travel to Arbroath – the side they met in the competition this time last year.
With prospect of the game going ahead looking positive, McCracken says it will be a good chance for them to put a halt to their recent run of poor form which has seen them go three games without a win for the first time under the co-bosses.
"We spoke to Arbroath on Wednesday and they're not expecting any problems having put covers down on the pitch.
"We've had a good week's training we have the chance to put our recent results and performances behind us.
"Arbroath haven't changed too many of their personnel since we played them last season so we have a good idea what to expect and we will prepare properly.
"With our recent results it could be good to get away from the league but it's another game and we want to do well and progress in the cup.
"For myself and Lee these are the times where you learn the most, the difficult times.
"If you continuously win then you sometimes don't see things that are happening and aren't being challenged.
"It's not that we want to be in this position but we have to deal with it and it will make us better coaches and managers in the long run."