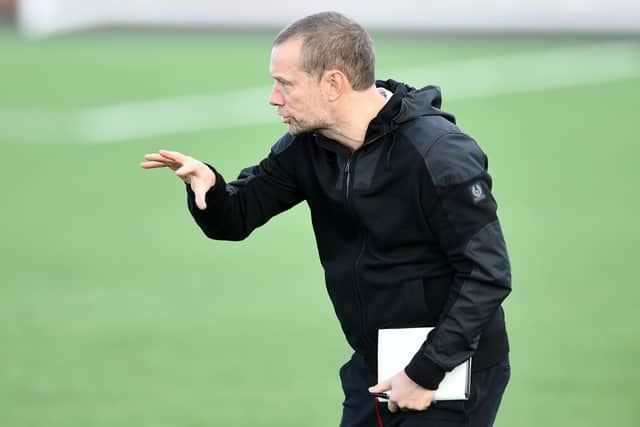 Bo'ness United gaffer Max Christie (Pic by Michael Gillen)
But – with respect to the players' current clubs – Christie is not keen to identify the sextet at the moment.
"I'm still not keen to announce them all until June 1," Christie told the Journal and Gazette.
"Obviously things can happen prior to that.
"The positions that they play are all over, strikers, midfielders, defenders. And we're still talking to others.
"So we've been working quite hard to get new recruits in and we're quite happy with the way it's going.
"Some of the six players have experience of playing in the Lowland League, some not.
"All of their existing contracts expire on May 31."
Meanwhile, Christie has backed Lowland League champions Kelty Hearts' successful bid to play Highland League top dogs Brora Rangers in a play-off for the right to play League 2's bottom club – which looks certain to be Brechin City – with a League 2 place next season at stake.
Brechin, who at time of going to press were eight points adrift at the bottom of the fourth tier with just three games remaining, had written to the SPFL board to say it would be "fundamentally unfair" to force them into a play-off as a result.
As a compromise, they proposed awarding Brora and Kelty places in an enlarged League 2 next season. But on Thursday the SPFL and Scottish FA confirmed that the Kelty-Brora play-off tie WOULD take place.
Christie, speaking before that announcement, said: "Turkeys aren't going to vote for Christmas so Brechin have to look for self preservation.
"The facts are that Brechin have finished bottom of the league in the past X amount of years.
"And it's the only league in Europe you don't get automatically relegated for that which beggars belief.
"So the fact that they're even getting into a play-off for me is just ridiculous, they should be relegated.
"Teams below them are spending, committees and investors, working incredibly hard on players and infrastructure, Kelty being the one that springs to mind being at the forefront of that.
"Brechin's suggestion to extend the league had a bit of traction in it I suppose.
"But whether Brora – after playing just three games last season – should have been announced in League 2 – I don't know about that either."