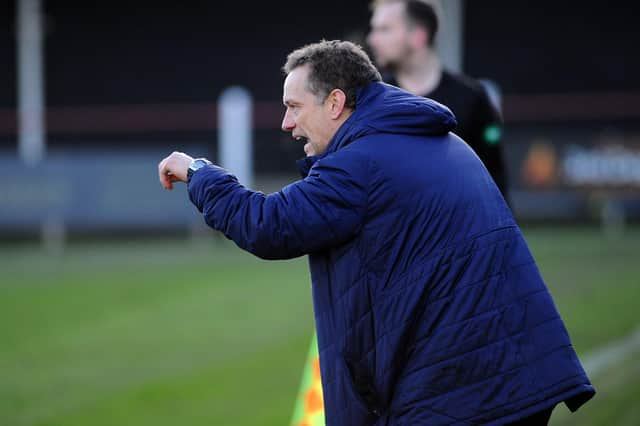 Bo'ness United manager Max Christie has been very busy in the transfer market (Pic by Alan Murray)
At the sharp end of the new arrivals is BSC Glasgow skipper Jamie McCormack, who impressed Christie in Lowland League clashes against the BUs last season, including scoring a late equaliser in an astonishing 4-4 draw between the sides at Newtown Park last November.
"Jamie plays anywhere across the back or in central midfield," Christie told the Journal and Gazette.
"He's the BSC captain and he started at Wigan and he's played at Stenhousemuir, Brechin, so he's played at a very high level.
"And he's played in a good BSC team. He scored against us last season, but we also scored four against them.
"Zander (Miller) scored a hat-trick that night in what was an incredible game of football, the type of game I look forward to."
Christie said that the massive rebuilding job within the playing squad that he has undertaken this spring has been necessary due to a number of high profile departures over the last couple of seasons.
With respect to the other nine new signings' parent clubs, Christie didn't want to identify them as their existing contracts don't expire until July 1 when they officially join Bo'ness.
"We have approached BSC through the right channels so we can announce that," Christie added.
"All of our new signings are playing at a good level, of course. They will all be coming in on one-year deals.
"We hope that they're going to be able to play in a team that's competing at the top end of the league.
"That's the plan, let's hope we get it right. We've been busy and I think we've got 18 or 19 outfield players signed so we've got a strong squad with good depth and we're hoping to be competitive."
Bo'ness will start back in training this Saturday.
Meanwhile, Bo'ness United have announced the arrival of Emma Harper as the new club physio.
Emma rejoins United after working most recently with Camelon and she will be familiar face to Newtown Park supporters after her previous spell at the club.