Match Report: Raith Rovers 1-4 Falkirk: January 7, 20117 - Watch it Again Weekend with Falkirk TV
This week you voted to relive Falkirk's 4-1 win over Raith Rovers in 2017 where Craig Sibbald again impressed and scouts from Manchester United and Liverpool were in attendance to watch left back Tony Gallacher.
Saturday, 15th August 2020, 5:45 pm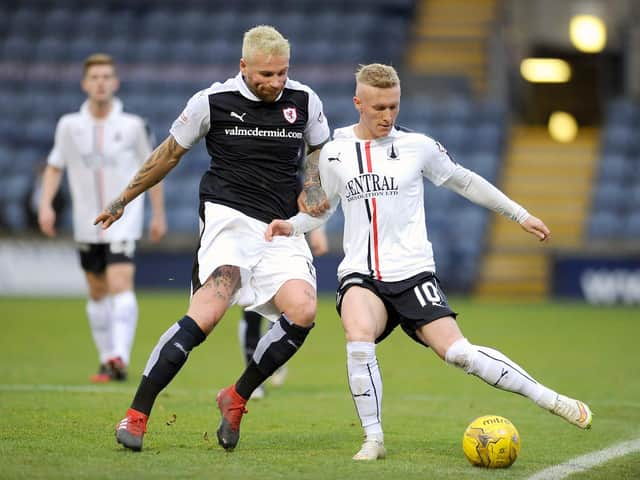 Craig Sibbald (pictured being challenged by Rovers' Ryan Stevenson) netted twice as the Bairns won 4-1 in Kirkcaldy
Here is how Falkirk Herald Sports Editor David Oliver reported from the match that day.
You can only neat what's in front of you and though they weren't at their peakFalkirk had more than enough to see off a poor Raith Rovers side.
It's not the Bairns' fault that Rovers were so poor, but what was in relative terms a good performance from Falkirk ran up a fairly comfortable scoreline against the ailing hosts at Stark'sPark.
It could be, and should be enough to turn the season around.
Rovers are next in line for a play-off spot but it's hard to see where their next points will come from based on this result which should send Falkirk into the weekend match with Ayr United full of confidence.
Four goals is the Bairns' largest haul this season in all competitions and their biggest winning margin since a 5-0 home win over Alloa in November 2015.
Incidentally that win over the Wasps took the Bairns' points tally to 30 – the same figure they sit on now.
There is no doubt this season has not hit the heights of last,but this performance had all the hallmarks of last season.
They started very much in this season's style though and it was an uncharacteristic blunder from Peter Grant that gave the home side the lead.
Moments after being told to find the wing areas with clearances by his boss, Grant played a short pass from the edge of the box to Mark Kerr, under pressure.
Kerr's attempt to return the ball was clearly handled by Ryan Stevenson and though Grant swiped to clear Chris Johnston nipped in and beat Danny Rogers.
The Bairns responded though when Myles Hippolyte swep tin a wondrous freekick into the top corner from more than 20 yards to level after Ross Callahan fouled John Baird.
Declan McManus saw a chance to level for his side foiled by a wonderful stop by Danny Rogers after Bob McHugh had swept the Bairns ahead by beating Kevin Cuthbert at his near post.
If this is to be a pivotal win for Falkirk's season aspirations ,that moment when the Irishman clawed the ball off the goal-line was the pivotal moment in the match, and therefore season.
From then on Falkirk swept Rovers aside as Craig Sibbald hit a double, both set up by left-back Gallacher.
For his first he allowed Gallacher's inside pass to run across him, turned and fired a low shot at goal.
Bizarrely Cuthbert – already flat-footed for Hippolyte's hit and beaten at his near-post by Bob McHugh – tried to save with his feet, and made a complete mess of the stop.
The ball sailed over his outstretched leg and into the net to give the Bairns a comfortable halftime advantage.
Peter Houston's half-time team-talk was more of the same and to even extend the advantage.
His words were put into action within minutes of Falkirk restarting the game.
Again Gallacher was supplier and he hit the byline to cut-back to the edge of the box for the late run of Sibbald to sweep in the fourth in a strike
that is becoming characteristic for the homegrown Bairn.
Gallacher was being watched by Liverpool and Manchester United scouts and barely put a foot wrong, and other scouts will have no doubt picked up on the potential not only possessed by the left-back but by Hippolyte and Sibbald too.