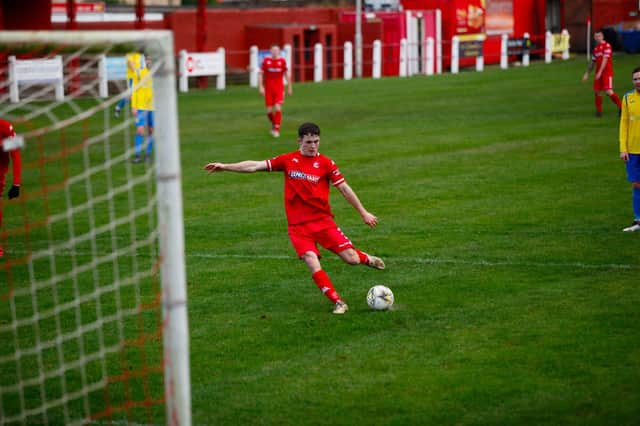 Mark Stowe about to net a penalty for Camelon last season (Pic by Scott Louden)
Having been sidelined for much of the previous season due to injury, Stowe exploded into action playing wide right for Camelon in the unfinished 2020-21 campaign, netting an astonishing 14 times in just 13 games.
"I would probably say that scoring rate surpassed my expectations," Stowe, 22, told the Journal and Gazette.
"I knew I would kick on a bit once I got a run in the team without injuries and luckily enough that happened.
"When you start scoring a few at the start of the season it gives you the confidence to just kick on and keep doing well.
"I always was a number 10 but my Camelon gaffer Gordon Herd said to me in the first game of the season that he was going to play me right as he liked seeing me cut in in training.
"He thought the team would get good use out of me playing on the right. I'm left footed so I've just been cutting in and have got a lot of joy from doing that.
"Until last season I had never really played on the right wing so great credit to my old gaffer for playing me there.
"I've said to Brown (Rose gaffer Ferguson) about me playing on the right for Linlithgow. I think he knows I can play the 10 as well so it probably gives him a few options. I'm happy to play anywhere."
Ironically, although his 2019-20 season was blighted by injury, Stowe actually played in a Camelon side which thrashed Linlithgow 5-1 in October 2019, one of current Rose boss Ferguson's first games in charge of the Prestonfield outfit.
"I'm sure I set up some of the goals that day," Stowe said.
Now it's gone full circle, with Stowe swapping one East of Scotland Premier Division club for one of the true giants of the division.
"I'm excited to try for promotion next season," Stowe said. "That's one of the main reasons I joined Linlithgow, because they have a great chance of winning the league.
"I think that's probably the aim for all the boys. I've not had a chance to meet any of them but I'd assume that's the feeling in the dressing room.
"I definitely think Linlithgow should be playing on a higher stage. Even when I played at their ground previously you could tell It's a huge club with a big fanbase for the level they're at.
"Even speaking to Gordon Herd – a legend at Linlithgow Rose or so he says anyway – before I joined, he said I would absolutely love it as it was a bit of a sleeping giant club.
"They used to win everything when he was there. If I worked hard, he said the fans would love me."
Away from football, Stowe is currently studying a sports development course at college, with the aim of going to university in September.
He is due to receive his first Covid vaccine this Friday as – although he is in a younger age class – he cares for his gran Emily.
"That will definitely be a relief for me to get the jab," Stowe said. "It's been a long time coming.
"It's hopefully the first step for us all to get back to normality."