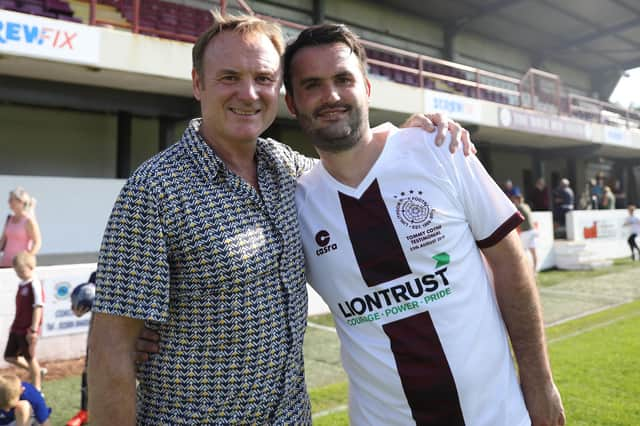 Tommy Coyne and his dad Tommy Snr pictured at the 33-year-old's testimonial in 2019 (Pic by Jamie Forbes)
Coyne, who joined the Prestonfield outfit way back in July 2009, was part of the Rose team which won the 2010 Scottish Junior Cup with a 1-0 final success over Largs Thistle.
Eleven years later – having had a deserved testimonial in 2019 marking a decade of service – Coyne is part of Brown Ferguson's East of Scotland Premier Division outfit, whose players remain on furlough due to the continuing coronavirus crisis.
But just what is it that has kept Dundee-born Coyne, son of the prolific former Celtic, Motherwell and Ireland striker of the same name, at Rose for so long?
"Ever since I've been at Linlithgow I've just had a feeling that things were right," Coyne said.
"They're lovely people, they treat you well. It's nice to do well for them and it's never really crossed my mind to go anywhere else to be honest with you.
"It's a combination of those things and happiness is also a big factor.
"Winning the Scottish Cup was probably the best moment of my career with Linlithgow but to get a testimonial is something that I'll never, ever forget.
"Not a lot of people get testimonials these days. People that got a testimonial before me at Linlithgow were legends Danny Smith, Gordon Herd and Stuart McArthur so it was great, a brilliant day not just for me but for my family as well."
Another obvious highlight for Coyne at Rose came in 2016, when the then junior outfit became the first team from that level to reach the last 16 of the senior Scottish Cup. It was a run featuring several bits of drama!
"It was a very, very strange year," Coyne said. "Every single tie we played away from home, away up north.
"We played Wick having gone up the night before – spending seven hours on a bus – then staying in a hotel.
"On the Friday night it started snowing and I said to a few of the boys: 'I think it could be off'.
"We got to the ground next day and the pitch was waterlogged, you could tell that straight away, so the game then got cancelled in the warm-up.
"Then we had to go back up during the week with only 12 players because the boys had to work and things like that. Then we drew with them and they had to come back down to us!
"It was fun and games but it's all worth it in the end when you win.
"Then we played Forfar away and the floodlights failed, there was trouble with the fans and we had to go back up there.
"But it made it more special getting through all those rounds and going to Ross County was a good day out. I wouldn't swap it for anything.
"We played really well that day and had a great support up there. I think their fitness just told in the end.
"I think to get to the last 16 was a great achievement."
For the record, here were Linlithgow Rose's results in that sensational Scottish Cup run in the 2015-16 season: Second Round – Clachnacuddin (A) Won 3-1; Third Round – Wick Academy (A) Drew 2-2, Third Round replay – Wick Academy (H) Won 5-1; Fourth Round – Forfar Athletic (H) Drew 3-3, Fourth Round replay – Forfar Athletic (A) Won 1-0; Fifth Round – Ross County (A) Lost 4-2.