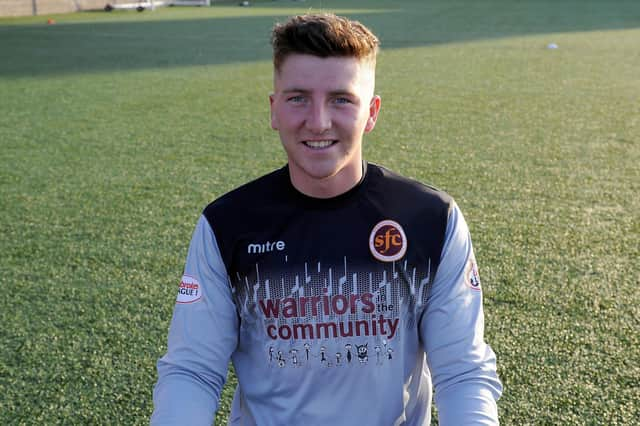 Lewis McMinn is pictured during his days at Stenhousemuir (Pic by Michael Gillen)
McMinn, 23, who was most recently on the books of Brechin City, comes in as fellow keeper Lee Wilson heads for the Prestonfield exit door.
"We're delighted to get Lewis," Ferguson said. "I know Lewis. I worked with him when I was at Stenhousemuir (who Brown managed from 2015 to 2018). He was the number two goalkeeper at that point to Graeme Smith.
"Lewis has an excellent football CV for a younger player. He started off at Rangers in their academy and then moved to Falkirk, was recommended to me by Alex Smith.
"He was highly thought of at Falkirk but for one reason or another he didn't get the contract he was after so he came to Stenhousemuir.
"You could see at that point he had some really good attributes, an excellent kicker of the ball, excellent shot stopper. And in the last three, four years he's obviously grown physically and developed as a person.
"He's now had close to 50 first team appearances under his belt. And I think he'll be an excellent addition.
"He knows the club. Danny Smith – who was a legend at the club – is his uncle.
"Lewis watched Linlithgow Rose as a kid so knows exactly the size of the club, the history of the club and what's expected."
On fellow custodian Wilson's departure from Linlithgow, Ferguson added: "Lee goes with my very best wishes for whatever he does next.
"He's been carrying a bit of an elbow injury since I came into the club. It's been difficult for him, very stop/start because of his injury situation.
"Pre-Covid, he took an elbow injury in a game. He got a heavy knock and it's transpired that he's got bone fragments in his elbow and he's never really been able to get over that, just because of the irritation that's going on in the elbow.
"At the start of the last pre-season he came back in great shape and we had two excellent keepers in him and Brian Schwake. But it just flared up again and Lee never really got started.
"With Lewis McMinn coming in I think Lee knows that to be pushing for the starting jersey he needs to be 100 per cent.
"And he just doesn't feel at this moment in time that he is.
"But in terms of a person he is different class and I think as a goalkeeper as well. I really hope he gets back to fitness soon."
Ferguson also revealed that he has agreed to sign an attacking player who is familiar with football at East of Scotland Premier Division level.
"It's not done, it's not over the line yet," he said.
"We have agreed to meet in the coming days to actually get the paperwork done.
"I wouldn't be happy to name the person just now."