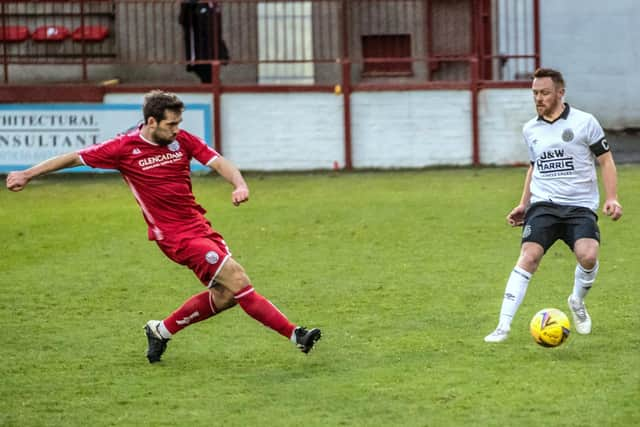 Ruari MacLennan (right) playing for Linlithgow Rose in their 3-2 win at Brechin City in the first round of this season's senior Scottish Cup (Pic by Picasa)
Speaking exclusively to the Journal and Gazette, Ruari, 32, explained just why he loved playing in the Scottish Junior Cup more than its senior equivalent.
"Getting to the last 16 of the 'big' Scottish and scoring at Ross County is of course one of the highlights of my time at the club," said Ruari – whose association with Linlithgow going way back to 2010 is unbroken other than spending a year at local rivals Bo'ness United in the 2016-17 season.
"I've had a few good moments in the big Scottish but I probably preferred playing in the junior Scottish Cup more.
"It was more the crowds you got, we always got 1000 plus at games. If you drew a West team you always got a good crowd and a good atmosphere and it was always a tough game.
"I remember a game where we played Arthurlie away and we won 4-2 I think and my wee brother Rod, he scored two.
"It's just little memories like that and playing Shotts in the semi-final of the Scottish Junior Cup. We beat them and went on to play Auchinleck Talbot (who defeated Linlithgow 1-0 in that 2013 final at Livingston).
"I haven't had that the last couple of years, it's been a bit of a miss since we moved to the East of Scotland League.
"I understand for the future of the club we had to go into this pyramid system but losing the juniors for me was a big thing. I always liked being a junior player but things have changed a bit now.
"It's a bit more professional now when you see people like Brown (Rose manager Ferguson) coming in because he's wanting to take it to the next level."
Ferguson has already tied down a number of key men for the 2021-22 campaign and MacLennan reckons they can challenge at the top end.
"The current squad is good," MacLennan said. "Last season sort of showed that.
"The crop of players is good enough to challenge in the league and from speaking to Brown he's planning on improving it even more.
"Hopefully everything goes well."
The senior Scottish Cup quarter-finals over the past few days have produced incredible drama, with no fewer than three of the four ties going to penalty shootouts.
And there was similar excitement five years ago, with Ruari finishing off a slick 75th minute passing move to bring it back to 3-2 before the Staggies finally killed off their lower league opponents with Brian Graham's second goal of the afternoon.
Reminiscing about that tie, Ruari added: "It looks like it was a close game getting it back to 3-2 but, from playing in it, the fitness level of the two teams was completely different.
"They just seemed that bit fitter. Considering where we were, we gave them a wee bit of a close run.
"I was that tired from running back from scoring the goal that two minutes later I actually gave the ball away and we conceded straight away, so that was actually my fault.
"That's what David McGlynn (manager at the time) kept reminding me about.
"But it's a good memory and I'm getting to the age where I've got to sort of cherish things like that.
"Even the Scottish Cup games against Forfar and Brechin last season, I enjoyed those ones as well."