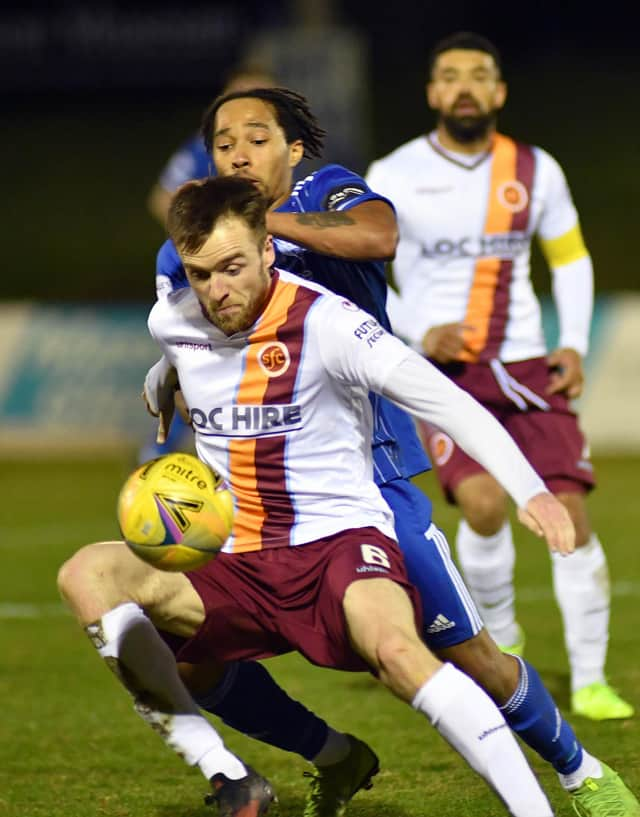 Ryan Blair holds off Naih Payne (Pic: Duncan Brown)
Mark McGuigan scored the game's only goal at a blustery Balmoor sending the Warriors back on the long trip home with a strong performance and a spot in the next round.
For manager Davie Irons the performance was very pleasing but the prospect of another match added to their already hectic schedule is problematic.
He said: "It was a really positive night for everyone involved with the club.
"Conditions were blustery, as they always are in Peterhead, but to a man our boys performed really well and I'm proud of them, they were excellent.
"The first half in particular we were playing into the wind and it was really difficult but they adapted well and we got a good goal after 20 minutes then we were really solid and professional in the way we saw the game out.
"We had some breakaway chances and maybe should have scored one or two of them but with any cup tie it's just about winning and getting through.
""We'll have to [postpone the league game with Cowdenebeath and play Tuesday-Thursday-Saturday-Tuesday.
"It's ridiculous but it's the price we pay for winning.
"I feel it devalues the competition a bit, normally it would be an important part of the season but it's going to be difficult for us to have to squeeze the games in.
"We'll never go out and not try and win a game though and it will be a good test."