Irons satisfied with point in torrid conditions at Cowdenbeath
Stenhousemuir manager Davie Irons says he was happy enough to leave Central Park with a point after windy conditions made it impossible to play decent football.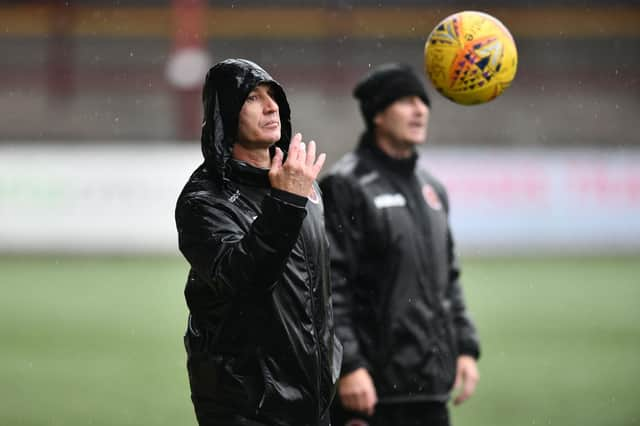 Stenhousemuir manager Davie Irons
After a goalless first half it was Cowdenbeath who took the lead through Brad Smith on the hour mark but Stenny were able to rescue a point late on through Cammy Graham's 85th minute goal.
It means the Warriors remain unbeaten after three games in League 2 with one win and two draws.
Speaking after the match, Irons said: "I think from both teams' perspectives you'd have been disappointed to lose a game like that because conditions were just awful.
"Neither team could say they were streets ahead or deserved to win it, we had a couple of chances so did they and over the piece a draw was a fair result.
"The match was spoiled by the conditions, more so the wind than the rain, but there was no lack of effort from us. It was just difficult to play any real controlled football.
"You expect that at this time of year in Scotland though and you just have to deal with it and credit to both teams for giving it a go.
"A point a Central Park isn't a bad result, like every manager I want to win every week but they are a well organised side.
"We've certainly closed the gap on them compared to where we were last year and that's one of the things we can take from the weekend."
Next up for Stenny they host Edinburgh City who they have already come up against this season in the Betfred Cup where the Warriors took the bonus point on penalties after a 2-2 draw.
"It's only a few weeks ago we played them so there won't be too much we don't know about each other," said Irons.
"They're a good side and were one of the best teams in the division last year, I imagine they will be looking to get out of this league, same as us, and they won at the weekend so we expect it's going to be a tight game."
Finally, on their unbeaten start to the season, Irons commented: "The ideal scenario would have been seven out of nine points but I'm not going to be critical - the two draws we could have easily won but could have also just as easily lost, we just need to concentrate on City now and dealing with their strengths and trying to be well prepared."