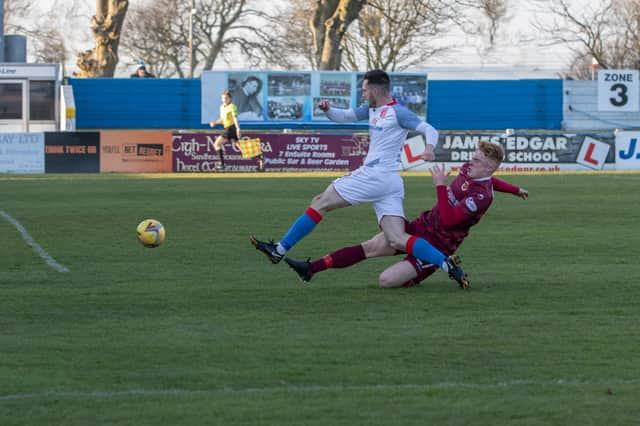 A 4-0 defeat at Stranraer last Thursday ended Stenny's hopes of a top half finish and push for a promotion play-off spot (Pic: Bill McCandish)
The Warriors announced on Tuesday, ahead of the match at Galabank, that the 59-year old and the club had agreed for him to step aside after just over a year and half in charge.
His penultimate match in charge came on Thursday night when they made the journey to Stair Park for a all or nothing play-off race clash with Stranraer
The Warriors needed a win to keep their hopes of a top half finish alive but it wasn't to be as the Blues secured a 4-0 victory.
Afer a goalless opening 15 minutes, the game sprung in to life and the hosts scored three times in a four minute spell with James Hilton, Thomas Orr and Rurai Paton giving them a 3-0 advantage.
Paton added a fourth midway through the second half to put the kiss of death on Stenny's top half and promotion play-off chances.
After announcing his departure earlier in the day, Irons lead the Warriors in to battle one last time away at Annan on Tuesday night but it was not the send off he would have hoped for as they fell to a humbling 5-1 loss.
Mark McGuigan opened the scoring after just seven minutes but they were pegged immediately back one minute later as Nathan Flanagan made it 1-1.
The hosts took a 2-1 lead three minutes later through Tony Wallace who added a third on 27 minutes.
Aidan Smith and Darren Christie scored the second half goals to finalise the scoreline.